Industrial and Safety - Ethical sourcing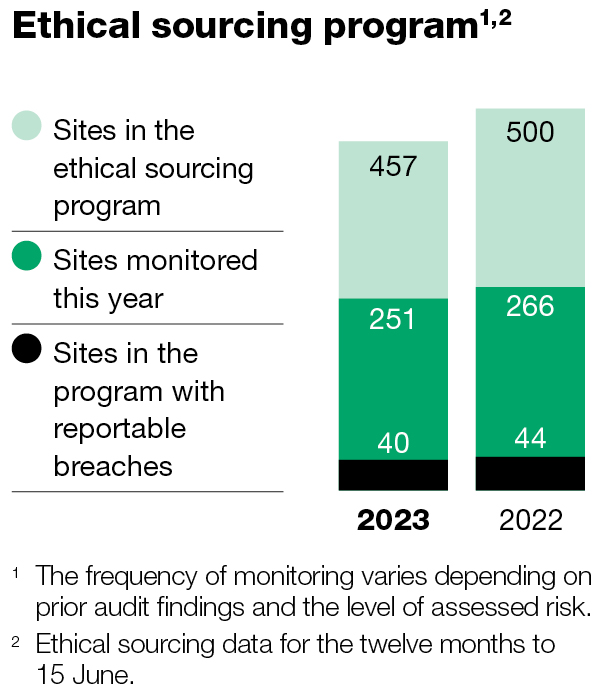 The Industrial and Safety division remains committed to establishing strong and respectful relationships with suppliers and building confidence in ethical sourcing practices with direct suppliers - both own-brand and customer-branded product manufacturers. This includes sourcing products in a responsible manner while working with suppliers to improve their social and environmental practices.
Each business manages its own risk-based ethical sourcing policy and strategy and has rolled out training throughout the year to support its team members, suppliers and customers in managing and identifying ethical sourcing risks.
Each business utilises the SMETA 6.1 audit methodology, and other social compliance audit types conducted by APSCA (Association of Professional Social Compliance Auditors) certified third party audit providers to assess suppliers against local laws and each business's respective ethical sourcing policies.
For local manufacturing in Australia, Workwear Group and Blackwoods are accredited to Ethical Clothing Australia, a joint industry and union-based initiative that aims to protect workers in the local textile clothing and footwear industry and ensure they are receiving their legal entitlements and working in safe conditions.
Beyond own-brand goods for resale
During the year, Blackwoods' due diligence expanded beyond goods for resale, and the business launched new sourcing protocols. Using a risk matrix, certain raw materials and other services were identified as requiring a defined sourcing and risk assessment process for their own-brand product range.
Workwear Group's supplier onboarding efforts continue to focus on tier 1, 2 and 3 suppliers and service providers, ensuring service level agreements include modern slavery and ethical sourcing clauses. Suppliers of goods not for resale have been onboarded to the program.
Customer engagement and information requests
Dealing directly with defence, government, manufacturing, mining and other corporate businesses, the division provides further value to these customers who are seeking greater transparency of its supply chain. By doing so, the business provides opportunity for collaboration on ethical sourcing, modern slavery risk management and broader sustainability initiatives. Workwear Group delivered specific customer-level reporting and Blackwoods fielded requests from customers who want to better understand their ethical sourcing and modern slavery risk approach.
NZ Safety Blackwoods participated in an IETP Corporate Social Responsibility and Environmental Impact Assessment S000109 and achieved the minimum requirements. Actions have been identified for improvement, which are being addressed.
Customers are also asking to be connected to Workwear Group and its suppliers via the Social Ethical Data Exchange (Sedex) platform. Supply chain transparency reporting and factory audit performance information was provided to eight key customers.
Grievance mechanisms
Blackwoods, Bullivants and Workwear Group implemented grievance mechanisms across selected manufacturers in mainland China, Taiwan, Vietnam and Indonesia. At the end of the year, more than 100 factory participants covering about 24,000 workers were able to scan a QR code in order to raise or voice concerns, which are then investigated by a third party, or the division. The division is working towards engaging the remaining factories within the own-brand program in the 2024 financial year, which includes exploring solutions for countries where access to mobile phone and service coverage is not sufficient to support the current grievance mechanism approach.

Training
The Industrial and Safety division continues to train employees, customers and suppliers on ethical sourcing and modern slavery.
Blackwoods' team members undertook training on emerging risks and ethical sourcing program updates with a focus on high-risk raw materials. Sourcing teams participated in Mineral Due Diligence and Cotton Transparency training as new sourcing protocols were rolled out. Blackwoods launched an updated Ethical Sourcing Policy, which was communicated to team members in August 2023, and supplier contracts have updated links.
NZ Safety Blackwoods is utilising eLearning platforms and face-to-face training for sales and category teams. Refresher training is completed in line with compliance requirements or at least every two years.
Coregas is utilising an online Litmos training system with refresher training required every two years.
Workwear Group rolled out its annual supplier compliance training in the first quarter of the 2023 financial year across its international supply base, including China, Bangladesh, India, Indonesia and Sri Lanka. The training covered:
compliance to Workwear Group policies

anti-bribery

ethical sourcing

modern slavery

product security

performance dashboard.
Training included a presentation from nominated auditing bodies, which included sharing of case studies, issues management and root-cause analysis and common global non-compliances.