Officeworks champions circularity with repair trial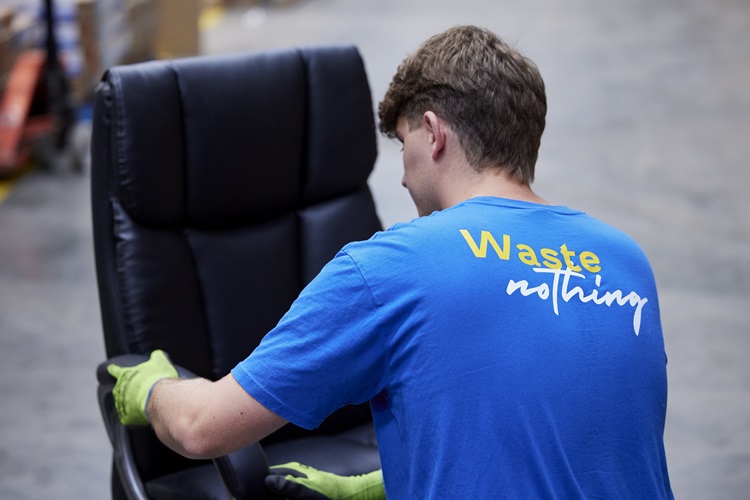 As a large retailer, Officeworks recognises the important role it plays in adopting more circular business practises. It has a commitment to support its customers to shop more sustainably while also helping customers recycle unwanted or end-of-life products responsibly. By repairing or repurposing products or capturing the materials to be used again through recycling, Officeworks can keep products in use for longer and reduce the environmental impacts of waste, supporting the transition to a more circular economy.
Officeworks has partnered with Circonomy, formerly the World's Biggest Garage Sale, since 2019. Circonomy is Australia's first recovery, repair and resale service and a key partner in supporting Officeworks to achieve its People and Planet Positive commitment of contributing to a more circular economy and repairing, repurposing and recycling 17,000 tonnes of unwanted products by 2025.
Together, Officeworks and Circonomy completed a 10-week furniture repair trial across 10 stores in Victoria. A key objective of the program was to develop a more sophisticated approach to handling imperfect products and eliminate some of the costly and inefficient processes that come with managing unsellable or damaged furniture, while reducing waste to landfill.
Repairs were made to defective stock identified by team members onsite with spare parts. The stock was returned to the shop floor for resale at a reduced price or to use as display stock. Stock unable to be repaired in store was taken offsite to a Circonomy facility to be refurbished and resold by Circonomy, providing a circular solution for unwanted or damaged stock.
Over the trial period, Officeworks successfully diverted 5.5 tonnes and 271 furniture items from landfill. The stores that took part in the trial saw a reduction in time and labour costs used to deal with damaged items and in total, 191 pieces were repaired onsite and 80 pieces were sent to Circonomy for resale.
As a result of the trial, Officeworks delivered operational, commercial and environmental benefits to the business, and took an important step towards its transition to a circular economy. It also allowed the business to test a circular solution, which has created a strong foundation for a future expansion program for Circonomy to support the broader Officeworks store network.
By prioritising repair and reuse over recycling, Officeworks has been able to keep existing products within circularity and in turn, has a valuable solution to extending the life of goods, reducing the impact associated with discarding unrecyclable items and components to landfill, while preserving and reducing the reliance on limited natural resources.
In 2022, Officeworks acquired a 21 per cent stake in Circonomy. The partnership demonstrates the environmental, social and financial opportunities associated with a more circular economy and is an example of sustainable value creation.