Wesfarmers OneDigital - Environment
OneDigital recognises the important role businesses play in reducing emissions, addressing climate change and increasing waste diversion.
OneDigital is headquartered at Melbourne Quarter, awarded the highest 6-Star Green Star sustainability rating for precincts in Australia. This enables the OneDigital head office to benefit from energy efficient outcomes, including low energy Power over Ethernet lighting and cabling technology, and high efficiency solar photovoltaic panels.

Energy and climate

Following the division's establishment on 1 July 2022, the 2023 financial year is the first full year that OneDigital has collected and reported energy and emissions data on a divisional basis. The work undertaken to capture this data has assisted in establishing a data baseline to inform future energy and climate targets and activities under the broader OneDigital sustainability framework.
In the 2023 financial year, Catch reduced electricity usage at its Truganina warehouse by 11.7 per cent, which can be attributed to simplified operations resulting in the removal of some equipment and subletting part of the building. There was a 29.7 per cent increase in energy activity at Catch's Moorebank facility due to increases in warehouse operating hours.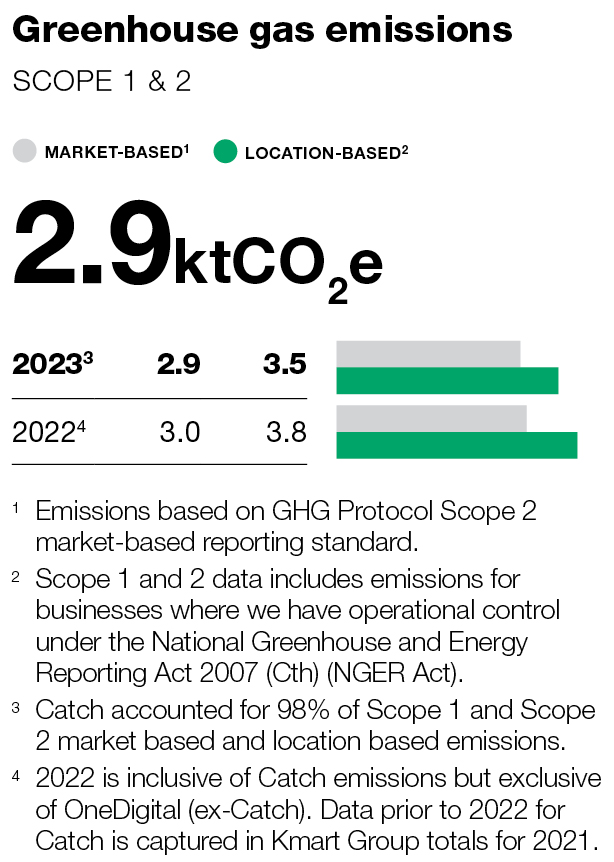 Waste

Catch's waste diversion at fulfilment centres reduced from 73 per cent last financial year, to 66 per cent in the 2023 financial year. Catch is in the process of revising its waste strategy following its separation from the Kmart Group at the beginning of the financial year.
From January to June 2023, Catch partnered with Circonomy in a pilot initiative to collect, transfer, refurbish, repair and repurpose still-useful products that may have been damaged in the supply chain or returned and unfit for immediate sale. The solution reduces waste sent to landfill and energy usage associated with extra storage requirements and has resulted in Catch recovering some of the cost of goods. By the end of the six-month pilot, the initiative had helped to keep more than 18,262 customer returned items in circulation.