Officeworks - Environment
Officeworks recognises it has a role to play in demonstrating positive climate action, advocating for change and driving collaboration across the retail industry as part of the transition to net zero and to a more circular economy.
Officeworks understands its stakeholders, shareholders and communities expect businesses to take action to address complex issues, such as climate change and resource usage.

Officeworks' approach to reducing emissions and adopting more circular business practices is outlined in its People and Planet Positive 2025 Plan, which includes taking meaningful climate action, looking after our biodiversity, contributing to a more circular economy and supporting customers to shop more sustainably.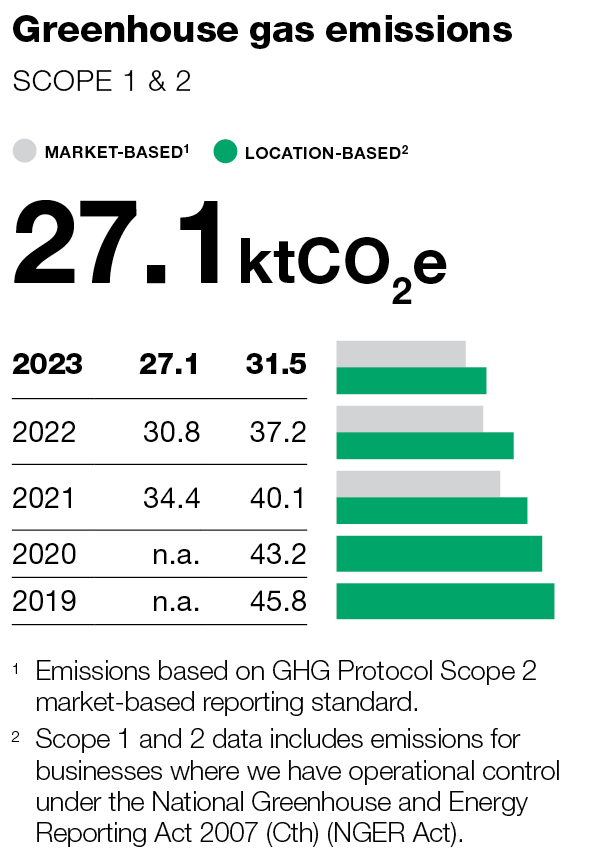 During the 2023 financial year, Officeworks reduced its Scope 1 and Scope 2 market-based emissions from 30.8 to 27.1 kilotonnes CO2e, a reduction of 12 per cent on the previous year. Officeworks continues to transition to 100 per cent renewable electricity by 2025, including through its procurement of renewable electricity and the installation of rooftop solar photovoltaic (PV) systems in an additional 12 stores in FY2023 (for a total of 26 stores across Australia).

In June 2023, Officeworks announced the installation of its first 100-kWh lithium battery and 100 kW of solar PV in Warana, Queensland . When fully charged, the battery will have enough energy to power approximately 70 per cent of the store's electricity needs, equivalent to around 35 residential homes. 

Forests play a critical role in biodiversity, providing vital ecosystems to 80 per cent of the Earth's land animals. The ability to stop biodiversity loss is heavily dependent on the ability to stop forest loss. Officeworks is supporting this global issue through its People and Planet Positive commitments to have zero deforestation in its supply chain by 2025 and planting two million trees on behalf of its customers.

To support this, by December 2025, suppliers of products containing paper and wood that are sold and procured by Officeworks must demonstrate the products are free from deforestation. This can be done via FSC certification, being 100 per cent recycled, made from fast growing fibres (with evidence they have been harvested legally and sustainably) or by additional due diligence or responsible forestry initiatives the supplier undertakes to ensure there is no deforestation associated.

Since 2017, through its Restoring Australia initiative, Officeworks has supported land restoration and provided habitat for native wildlife by planting over 1.45 million trees across more than 1,900 hectares of land. In the 2023 financial year, the initiative planted more than 200,000 trees.

In partnership with Restoring Australia, Officeworks continued planting across the Western Australian Wheatbelt region during the year, taking the total number of trees planted in Western Australia to more than 450,000, restoring more than 300 hectares of habitat. These plantings have improved the habitat for several endangered species, including three types of endangered black cockatoo.

In the same period, Officeworks planted nearly 20,000 trees in Victoria across the Central Otways and Victorian Volcanic Plains. Total trees planted in Victoria is approaching 400,000, restoring more than 300 hectares of habitat for many endangered animals, such as the Greater Glider, South-eastern Red-tailed Black Cockatoo and Corangamite Water Skink. In the Tasmanian Midlands, nearly 30,000 trees were planted with the total number of trees planted across Tasmania surpassing 200,000 across more than 450 hectares. Planting across Tasmania aims to support the last refuge in Australia for small mammals such as the Eastern Barred Bandicoot, Eastern Quoll and Eastern Bettong.

Officeworks has partnered with Circonomy, formerly the World's Biggest Garage Sale, since 2019. Circonomy is Australia's first recovery, repair and resale service and a key partner in supporting Officeworks to achieve its People and Planet Positive commitment of contributing to a more circular economy and repairing, repurposing and recycling 17,000 tonnes of unwanted products by 2025. A key objective of the partnership is to create a more sophisticated approach to handling imperfect products and to eliminate some of the costly and inefficient processes that come with managing unsellable or damaged furniture, while reducing waste to landfill. 

From December 2022 to February 2023, Officeworks and Circonomy trialled a 10-week furniture repair program. Over the course of the trial, Officeworks successfully diverted 5.5 tonnes and 271 furniture items from landfill. Of the stores that took part in the trial, Officeworks saw a reduction in time and labour costs used to deal with damaged items. In total, 191 pieces were repaired onsite and 80 pieces were diverted to Circonomy for resale.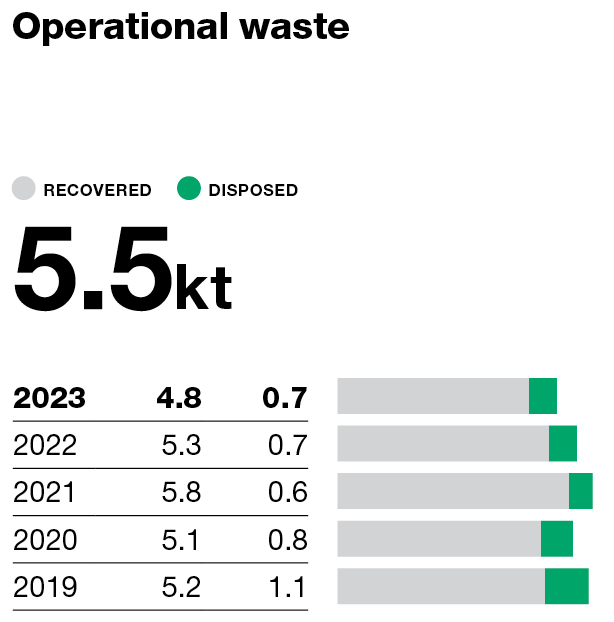 By prioritising repair and reuse over recycling, Officeworks has been able to keep existing products within circularity and in turn, has a valuable solution to extending the life of goods, reducing the impact associated with discarding unrecyclable items and components to landfill, while preserving and reducing the reliance on limited natural resources. 

To continue to provide its customers with more sustainable choices, Officeworks has more than 2,200 products in its People and Planet Positive range of products that hold sustainable attributes, including recycled content, wooden materials, certified cotton and includes items that are refillable, recyclable or reusable. For more information, visit https://www.officeworks.com.au/campaigns/people-and-planet-positive-product-range#/