WesCEF - Supporting communities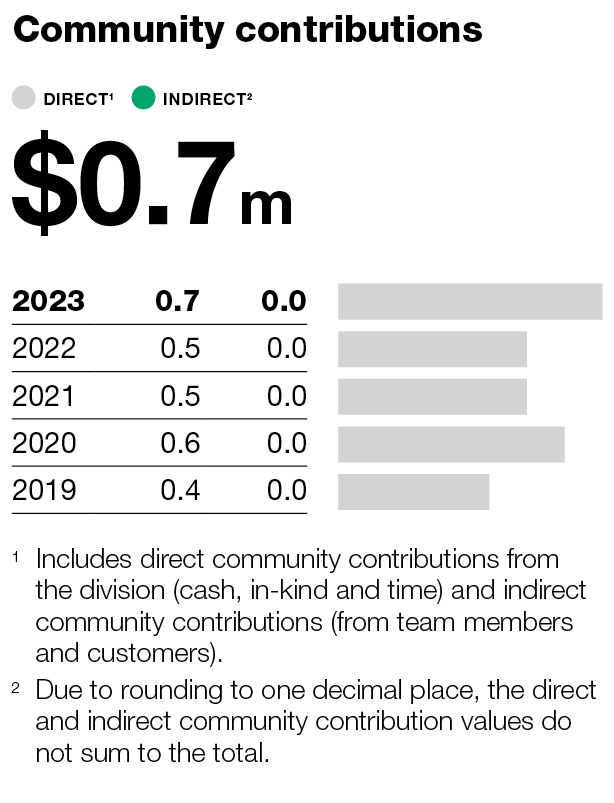 WesCEF continues to give back to the communities in which it operates, building relationships to develop and foster the wellbeing of individuals, families and the broader community.
Grants, partnerships and corporate sponsorships are just some of the ways WesCEF and its key consumer-facing businesses, CSBP and Kleenheat, support grassroots community groups as well as larger organisations.

As one of Western Australia's major energy providers, Kleenheat this year sponsored Perth community and arts events – the Garden and Outdoor Living Festival, Good Food and Wine Show and Perth Fringe Festival, and made a donation to Telethon Community Cinemas.

Kleenheat celebrated three years of awarding community grants across regional Western Australia and the Northern Territory, granting a total of $100,000. These grants support not-for-profits and organisations in the categories of connected communities, a healthy planet, health and wellbeing, cultural diversity, and inspiring great minds.

CSBP Fertilisers continues its advocacy of regional West Australians and sustainable communities through its long-term partnerships with Hockey WA, the Country Women's Association and the Regional Remote Women's Network of WA. Agricultural education has always been a focus of CSBP Fertiliser, with the Nuffield Scholarship program supporting a scholar for two years to travel to study a topic of importance to their agricultural business, industry or community.

WesCEF continues to support youth, environmental initiatives, science, technology, engineering and mathematics (STEM) education and Aboriginal health and wellbeing programs in the Kwinana and Rockingham areas, including support of the local Clontarf Academy at Gilmore College for young Aboriginal and Torres Strait Islander students.

WesCEF is exploring the introduction of an employee volunteering policy and program to enable team members to contribute to its existing community partnerships.