Bunnings supports mental health in the trade industry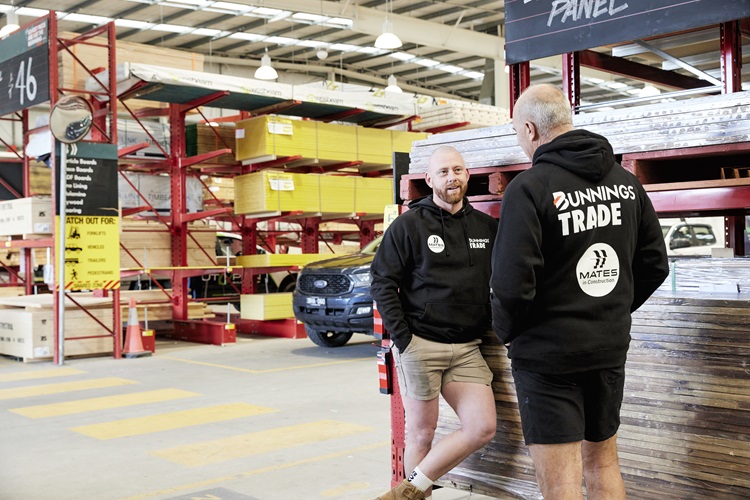 Bunnings is committed to supporting mental health in the trade industry. In recognition of this, Bunnings Trade announced a new partnership with MATES in Construction (MATES) in August 2022, an industry-backed, not-for-profit organisation that is working to reduce the level of suicide among Australian construction workers. Research conducted by MATES indicates that each year, around 200 Australians working in the construction industry take their own life; meaning a construction worker is lost every second day to suicide. By partnering with MATES, Bunnings supports the important message that suicide is everyone's business. 
To help raise funds, Bunnings Trade released a limited edition, black co-branded hoodie in Australia, with all profits from the sales going directly to MATES to continue its vital work.  
To kick off the partnership, Bunnings Trade BBQs were held across all Australian stores for the first time. Tradies were invited to grab a free bacon and egg roll, and play their part by purchasing a hoodie or remembering to check in on a mate. 
Through the generous support of team members and the trade and construction community, the campaign helped to raise and contribute $500,000 for mental health and suicide prevention in less than four weeks. 
The funds will help to provide meaningful resources in the construction industry, such as supporting field officers to deliver life-saving training to workers on-site and helping MATES to continue its 24/7 helpline and to create website resources. 
The partnership has supported MATES to increase awareness of suicide prevention and mental health with Bunnings Trade customers, PowerPass members and team members, at National Bunnings Trade Expo events, on the Bunnings website and via customer communications. More than 300 Bunnings Trade desks in stores and trade centres nationally displayed posters showcasing five ways to start a conversation to check in on a mate. 

Chris Lockwood, MATES National CEO, said the partnership with Bunnings Trade provided MATES with an opportunity to connect with tradies and construction workers in a meaningful way.  

'Our team has helped train almost 260,000 workers in General Awareness Training and case managed more than 12,000 people, and now with Bunnings Trade support, we can reach even more workers who might be struggling with life. 

'Our team genuinely loved working with the Bunnings Trade team and enjoyed getting down to the Bunnings Trade BBQs to launch the hoodies and talk to customers, many of which had not heard of MATES and our services before. The positive feedback and engagement from Bunnings Trade customers to learn more about MATES was amazing and cemented our purpose to improve the mental health and wellbeing of workers, to reduce suicide and that everyone in the industry must play their part,' Chris said.  

A similar initiative took place in New Zealand, with Bunnings Trade partnering with Movember to raise funds for the important work it does in supporting men's health and wellbeing. Limited edition co-branded hoodies were sold throughout November, raising more than NZ$63,000 to support a change in men's health, with a key focus on mental health and suicide prevention, prostate cancer and testicular cancer.  

Movember New Zealand Manager, Robert Dunne, said 'The support from Bunnings, their team members and New Zealanders who've bought the hoodies has been amazing and will be instrumental in helping us to continue advocating for and supporting men's health in New Zealand.'