Industrial and Safety - Balance and inclusion
The Industrial and Safety division strives to provide an inclusive workplace where all team members feel safe and respected. The divisional priorities of gender balance, Indigenous (Aboriginal, Torres Strait Islander, Māori and Pasifika) representation and a culture of respect and inclusion remain unchanged.
Gender representation has remained stable at 35.3 per cent as at end of June 2023 for women in senior manager roles. Female representation at general manager level improved from 19 per cent in the 2022 financial year to 31.6 per cent in the 2023 financial year.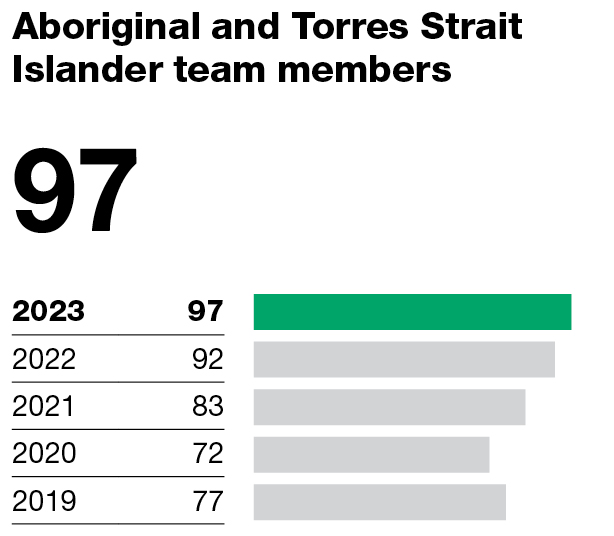 In Australia, Aboriginal and Torres Strait Islander representation continues to trend positively at 3.3 per cent, up 0.3 per cent from last year.
At NZ Safety Blackwoods, 124 team members identify as Māori or Pasifika, making up 21 per cent of the workforce.

Supporting equality and diversity
Each business unit has its own inclusion strategy and commitments to support divisional goals, including actions relating to cultural diversity, ability and LGBTQIA+. The businesses acknowledge several days of significance, including International Women's Day, NAIDOC Week, Harmony Week, Wear it Purple, World Mental Health Day and International Day of People with Disability.
Blackwoods sponsored six female leaders to be members of the National Association of Women in Operations seeking to build opportunities for women to pursue careers in supply chain and warehousing. Workwear Group hosted key events with female role models with guest speakers including Sarah Hunter, Managing Director – Officeworks and Jenny Bryant, Chief HR Officer – Wesfarmers.
Workwear Group, Blackwoods, Bullivants and Coregas worked with CareerTrackers and Indigenous recruitment partners to support internships and career opportunities for Aboriginal and Torres Strait Islander people. Indigenous supplier spend totalled more than $7.3 million for the year.
NZ Safety Blackwoods has achieved accreditation under the YWCA Auckland's Gender Tick™ – an accreditation program for organisations to show their commitment to progressing gender equality in the workplace. NZ Safety Blackwoods launched a cultural intelligence pilot training program, with the Te Roopu group created to ensure activities to support Māori are 'by Māori for Māori'. This is a group of team members who identify as Māori and represent all functions. Initiatives to support Māori pathways will be co-created in partnership with Te Roopu.