WesCEF - Environmental stewardship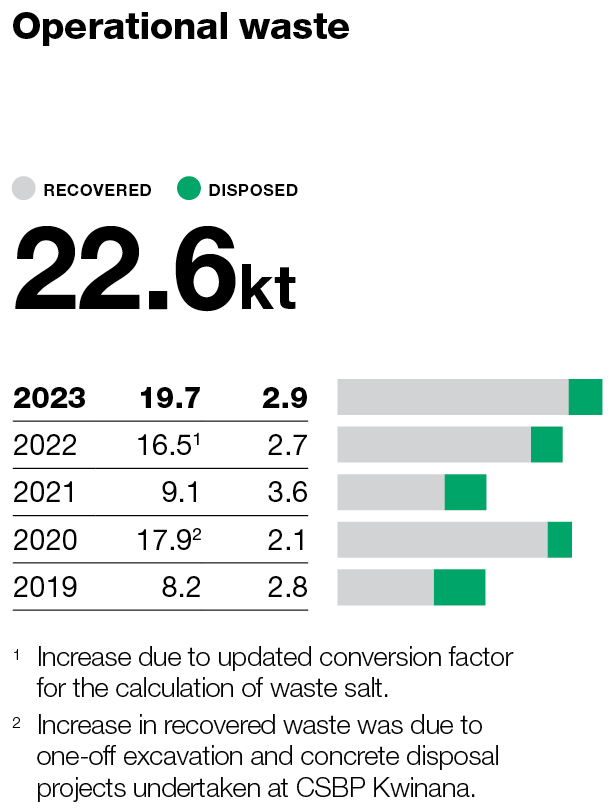 Legacy waste
Contamination at some WesCEF sites is predominantly the result of historic operational and waste management practices. Although these complied with the accepted practices of the day, ensuring modern and appropriate environmental management and remediating contamination from sites is an ongoing priority.
An integral part of its environmental management program is undertaking activities to monitor, assess and remediate, be they physical, chemical, or biological processes. At CSBP's Kwinana site, a major initiative that commenced in the 2023 financial year was the design and construction of a small-scale, pilot groundwater remediation system, aimed at removing nitrogen contamination from groundwater. This pilot project was commissioned in mid-2023.

Water

The supply of water and management of wastewater is a business-critical requirement at CSBP's Kwinana site. CSBP manages availability, reliability and cost of traditional water supply and wastewater treatment options, which in turn impact costs, compliance, plant reliability and business growth opportunities.

A review of water source options for daily operations and future growth projects was undertaken in the 2023 financial year and two potentially viable solutions were identified. First, that WesCEF increase its water allocation from the Kwinana Water Reclamation Plant (KWRP) and second, build an additional reverse osmosis plant onsite that removes contaminants from wastewater so that it can be re-used for operational purposes.

Both options use wastewater as the source of supply and assist WesCEF to reduce its reliance on the site's existing groundwater bores.

WesCEF continues to evaluate both options to manage its water requirements and wastewater.

Progress against WesCEF's Net Zero Roadmap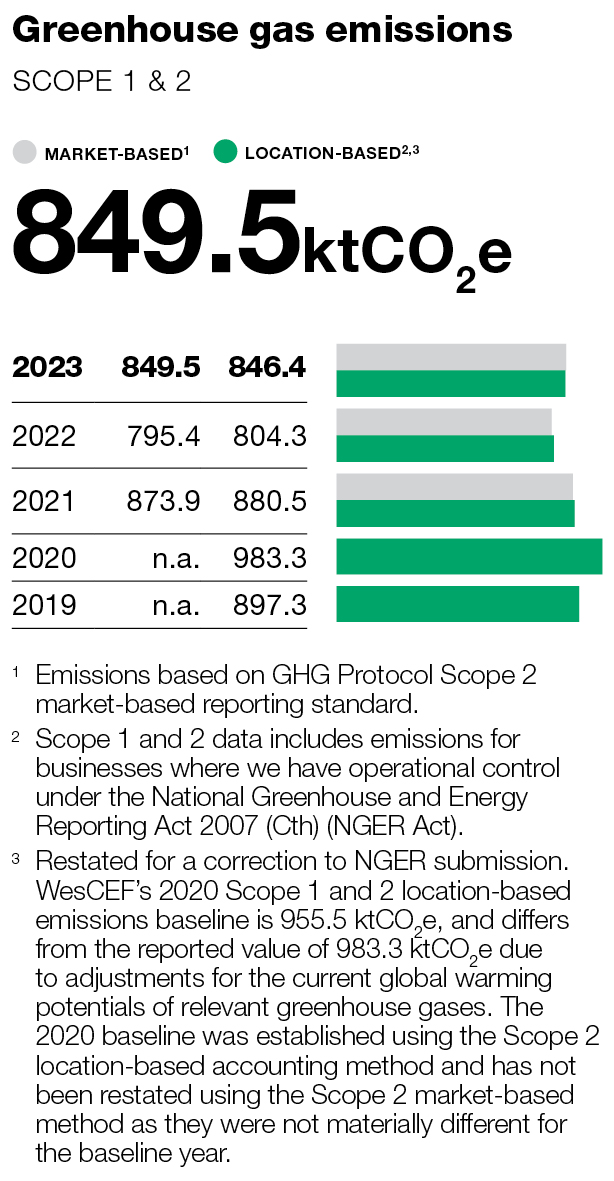 WesCEF continues to avoid approximately 850,000 tonnes of carbon dioxide equivalent (tCO2e) of emissions annually as a result of the implementation of abatement technology prior to 2020. These investments included secondary nitrous oxide abatement catalysts, electricity generation from process heat recovery and the capture and sale of carbon dioxide.
WesCEF's Net Zero Roadmap Decarbonisation journey - WesCEF presents how it expects to achieve its targets of a 30 per cent Scope 1 and Scope 2 reduction in emissions by the end of financial year 2030, relative to a financial year 2020 baseline, and net zero Scope 1 and Scope 2 emissions by 2050. While the technologies that underpin the 2030 target are well established, there is greater uncertainty around the optimal combination of technology that will be deployed from 2030 onwards.

The 2023 financial year's Scope 1 and Scope 2 market-based emissions were 11.1 per cent below baseline, reflecting progress towards the 2030 financial year target. This is primarily due to additional investment to optimise secondary nitrous oxide abatement catalysts in CSBP's three nitric acid plants.

Progress has also been made on studies, engineering and project planning towards delivering the abatement projects that underpin the remainder of the 2030 financial year target. A final investment decision on the first of these projects is anticipated in the coming year.

WesCEF continued to reduce the uncertainty around its pathway beyond 2030 with a focus on collaboration, partnerships and transparency. Workstreams are focused on studying and testing low carbon hydrogen technologies and project configurations.