Officeworks - Diversity and belonging

Fostering a culture that encourages and embraces diversity in all forms contributes to Officeworks team members' wellbeing and sense of belonging while better reflecting the communities in which they live and work.
Officeworks recognises the value diversity brings and aims to celebrate people from all walks of life to create a culture of belonging that is reflected in the day-to-day behaviours of its team members at every location and every level of its business.  

Officeworks understands the important role it plays in ensuring its team reflects the communities in which it operates and in supporting team members to be their authentic selves at work no matter their life experience, ability, age, ethnicity, religious beliefs and cultural background. 

The Officeworks diversity and inclusion strategy focuses on building awareness and knowledge across three key pillars – Indigenous, identity and accessibility.

Officeworks has maintained its focus to create a culture where team members feel valued and comfortable to support team members to be their best, most engaged versions of themselves.
Indigenous employment:

Officeworks is committed to building a greater understanding of Aboriginal and Torres Strait Islander history, customs and culture, as well as providing career opportunities and guidance for Indigenous team members.  
Aboriginal and Torres Strait Islander employment at Officeworks meets employment parity with 3.3 per cent representation. Officeworks remains focused on sharing job opportunities with the Indigenous community via its dedicated Diversity and Inclusion team, where some team members identify as Indigenous and whose roles are to assist with recruiting, interviewing and supporting Indigenous team members during their time at Officeworks, while working with long-term partner, The Clontarf Foundation.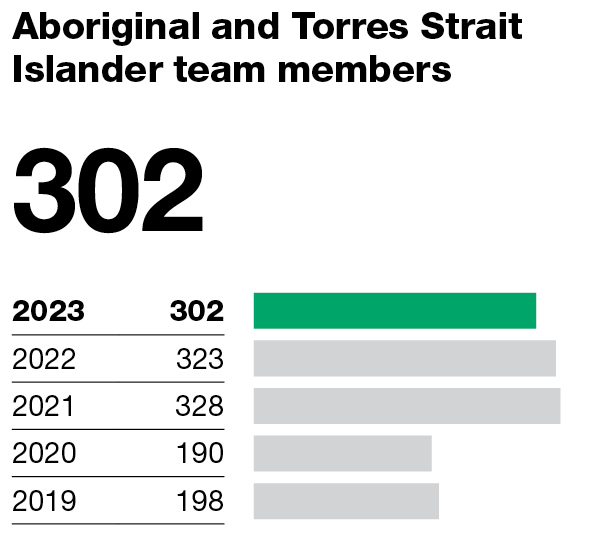 Diversity and inclusion:

Sharing First Nations people's stories and achievements, including the artwork of emerging artists, has been a key initiative for Officeworks in the 2023 financial year. This included collaborating with Indigenous artist Natalie Jade to release a bespoke stationery collection where for every product sold from the range, 50c was donated to The Australian Literacy and Numeracy Foundation (ALNF). Donations from this range went towards ALNF's Living First Languages platform, which focuses on preserving, revitalising and teaching First Nations languages.
During the year, Officeworks built cultural awareness through dedicated training for its team members to increase team member understanding of Aboriginal and Torres Strait Islander history, culture and customs while celebrating key events to raise awareness internally and within its communities.

Officeworks continues to focus on celebrating its diverse workforce by participating in events that embrace diversity and raises awareness of key milestones and messages within its communities. This includes celebrating World Pride, International Women's Day and International Day Against Homophobia, Biphobia and Transphobia.

Officeworks continues to explore ways to integrate initiatives to celebrate diversity of thought and belonging within its business, including launching guidelines for supporting gender affirmation and transitioning in the workplace.

Disability and accessibility:

As of 30 June 2023, Officeworks has 166 team members employed that identify as having a disability within Officeworks' human resources information system, an increase from 134 team members last year.
Gender balance:

Officeworks maintained gender balance among leadership roles. Women hold 43.53 per cent of all leadership roles, an increase of 0.7 per cent on the previous year. At the end of the 2023 financial year, women represented 43.46 per cent of store leadership roles and 44.13 per cent of corporate leadership roles.