Bunnings - Climate and energy
Bunnings recognises business has an important part to play in reducing greenhouse gas emissions and addressing climate change. 
Reducing energy consumption and transitioning to renewable electricity across its network are the foundation of Bunnings' efforts to reduce carbon emissions.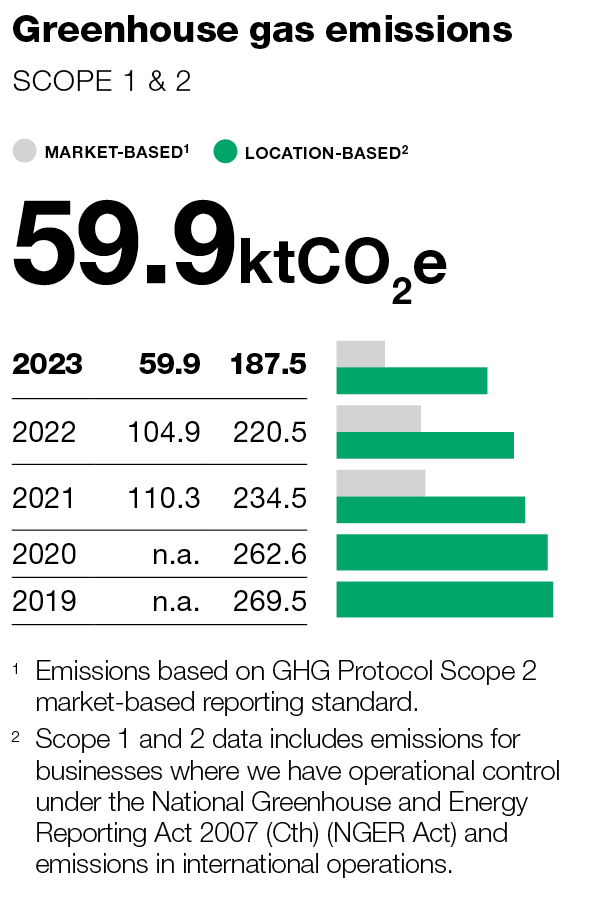 During the year, Bunnings made significant progress towards achieving its target to achieve 100 per cent renewable electricity by 2025 and net zero Scope 1 and 2 emissions by 2030. As of 30 June 2023, Bunnings achieved 64.4 per cent renewable electricity usage across its network and reduced Scope 1 and Scope 2 emissions by 42.9 per cent compared to the previous financial year. 

Bunnings' progress is largely attributed to new long-term renewable power purchase agreements across the network. Bunnings executed a renewable power purchase agreement for its large sites1 in Victoria. The Victorian contract has project linkage to the Numurkah Solar Farm and took effect on 1 July 2022 with 100 per cent renewable electricity. This agreement covers 97.9 per cent of Bunnings' electricity load in Victoria.

In South Australia, Bunnings' large sites currently use 57.5 per cent renewable electricity and will transition to 100 per cent renewable electricity on 1 July 2024, with project linkage to the new Tailem Bend 2 Solar Farm. The agreement covers 93.6 per cent of Bunnings' total electricity load in South Australia. 

During the 2023 financial year, Bunnings executed a new 100 per cent renewable electricity contract for small sites2 across New South Wales, Queensland, South Australia, the Australian Capital Territory and Victoria. Bunnings sites in New Zealand continue to be powered by 100 per cent renewable electricity.

During the year, Bunnings rolled out 31 new solar photovoltaic (PV) systems and celebrated a milestone, with the installation of the 100th solar PV rooftop system on the Palmerston Warehouse store in the Northern Territory. As of 30 June 2023, 127 solar PV systems were installed on Bunnings stores across Australia, covering a total of more than 310,000 square metres of roof space, generating 33.6 megawatts and providing up to 30 per cent of each store's energy needs. 
Energy efficiency plays a crucial role in accelerating greenhouse gas emission reductions. Despite expanding its store network, Bunnings reduced absolute electricity usage by 5.4 per cent in the 2023 financial year compared to the previous year.  

During the year, Bunnings expanded its Scope 3 emissions reporting to include all relevant categories. In the coming financial year, Bunnings will focus on enhanced Scope 3 emissions data capture and reporting to support future decarbonisation initiatives. 
1 Electricity consumption is equal to or exceeds 100 megawatt hours (MWh) per annum.
2 Electricity consumption is less than 100 megawatt hours (MWh) per annum.