Kmart Group - Health, safety and wellbeing
Kmart Group is committed to improving the health, safety and wellbeing of team members and providing a safe shopping experience for customers.
Kmart

Kmart continues to make progress in enhancing safety, health and wellbeing across its operations through strategic initiatives and ongoing investments. It has advanced its critical risk management program, with the development of critical risk guidelines and the implementation of an assurance program to assess the effectiveness of critical controls.
A key area of focus has been the mitigation of customer threatening situations, leading to the implementation of enhanced risk controls. These measures include comprehensive team member training and improved security arrangements. Team member safety cameras are now permanently established in 30 high-risk stores following a successful trial period. Of team members involved in the trial, 83 per cent reported that they felt safer wearing the cameras.

Kmart continues to invest in hazard reduction initiatives, including store fitting design changes to mitigate customer injuries and the permanent closure of a number of mezzanine deck gate access points to eliminate a fall from height risk. Kmart has also trialled a new purpose-built ladder in store to mitigate falls associated with 'steppers' onsite.

Recognising the importance of mental health, Kmart has evolved its comprehensive mental health strategy. The objective is to foster a psychologically safe workplace by applying the principles of psychosocial hazard management, which include preventing harm, intervening early, and supporting recovery.

Kmart finished the 2023 financial year with a year on year reduction in its total recordable injury frequency rate (TRIFR) to 8.4 and had an increase of non-COVID related new workers compensation claims by six per cent to 437.

Target

Target achieved a tenth consecutive year of improved safety performance with a 20 per cent TRIFR reduction to 3.84 and reduction of new non-COVID related workers compensation claims by 20 per cent to 41. The sustained improvement in safety performance is attributable to a focus on proactive hazard management and reporting combined with improvements in the quality and quantity of 'in the moment' safety observations.
Target continues to explore opportunities to reduce the risk of customer threatening incidents through virtual reality headset and online training. During the year, Target piloted the use of team member safety cameras resulting in a reduction in reported incidents and improvement in team member safety.

The Target your Health program continued to offer support for team members and their families with a 2.9 per cent increase in team members accessing the program. Ten per cent of team members also participated in the influenza vaccination program, which is a key wellbeing initiative Target continues to invest in to help its team members be at their best.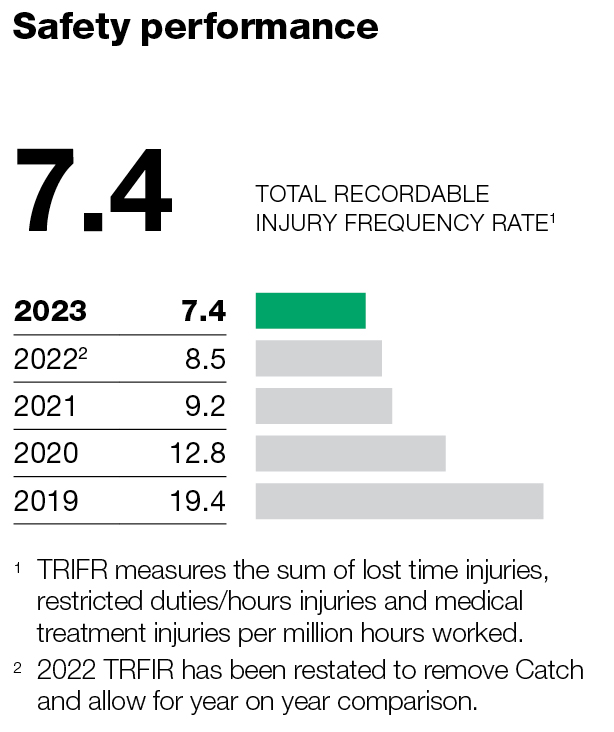 GRI 3-3, GRI 403-1, GRI 403-2, GRI 403-3, GRI 403-4, GRI 403-5, GRI 403-6, GRI 403-7