Bunnings - Health and wellbeing
The safety and wellbeing of Bunnings team members is the businesses' top priority. In the 2023 financial year, Bunnings employed more than 52,000 team members across Australia and New Zealand. By striving to provide a safe and positive working environment for team members, customers, suppliers and visitors, Bunnings aims to ensure everyone returns home safely.
Bunnings' key focus continues to be on eliminating fatalities, preventing work-related injuries, illnesses and incidents as well as protecting and promoting the wellbeing of all team members.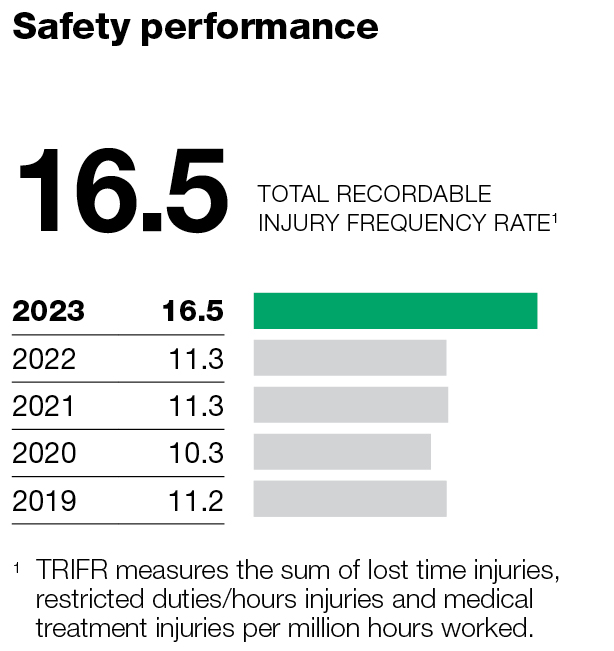 In the 2023 financial year, the total recordable injury frequency rate was 16.5, compared to 11.3 in the prior year. Bunnings' deterioration in safety performance is due to an increase in manual handling injuries and a re-alignment of safety definitions for consistency across the Wesfarmers Group. During the year, Bunnings developed a comprehensive plan to improve safety performance throughout the business, with the aim of managing injury risk and improving safety performance.

During the year, Bunnings continued to concentrate on identifying risks in the workplace and measures that can be taken to control these risks through the implementation of the Life-Threatening Risk program. Bunnings implemented lifesaving controls for forklift and pedestrian interactions across all sites. To complement this, a new Great Saves program was also launched, which encourages team members to call 'Stop' when they observe work taking place that does not have the appropriate life-saving controls in place.  

Bunnings strengthened its incident investigation processes during the year, with a focus on learning and improving from near miss incidents. This saw more than 50 investigations completed, resulting in many business-wide improvement actions implemented to prevent reoccurrence. This included changes to processes in how Bunnings handles selected bulky products to help reduce the risk of team member and customer handling injuries.

Bunnings is committed to providing early intervention injury management. In May 2023, Bunnings launched an early intervention program for team members supported by health professionals across the business. This program provides support to leaders and team members should an injury occur, ensuring prompt advice and recovery treatment options are available for team members if required.  

Bunnings continues to focus on the mental and physical health and wellbeing of team members. Efforts to enhance wellbeing in 2023 included streamlining access to support, building internal capability through the redesign and delivery of training to leaders and addressing identified psychosocial hazards.   

A key focus in the 2023 financial year was the commencement of a program to improve the capability of leaders and support team members to proactively prevent and manage mental health. Key initiatives included training of safety and wellbeing team members on the identification and management of psychosocial hazards and the launch of a new Mental Health for Leaders learning and development course to complement existing leader-focused training options.   

Bunnings has seen an increase in the frequency of customer violence and aggression related incidents. During the year, Bunnings trialled increased signage in higher-risk areas and launched a high-risk working group to support efforts to protect team members.

In April 2023, Bunnings launched BWell, a new counselling and wellbeing support service. BWell provides Bunnings team members with access to counselling, coaching and wellbeing support, in addition to a range of wellbeing tools and resources designed to empower team members to be their best.   

In the year ahead, Bunnings will continue to focus on the design and implementation of targeted programs to reduce the risk of fatalities and serious injuries, preventing work-related injuries, illnesses and incidents as well as protecting and promoting the wellbeing of team members.  

GRI 3-3, GRI 403-1, GRI 403-2, GRI 403-3, GRI 403-4, GRI 403-5, GRI 403-6, GRI 403-7