Little science geniuses program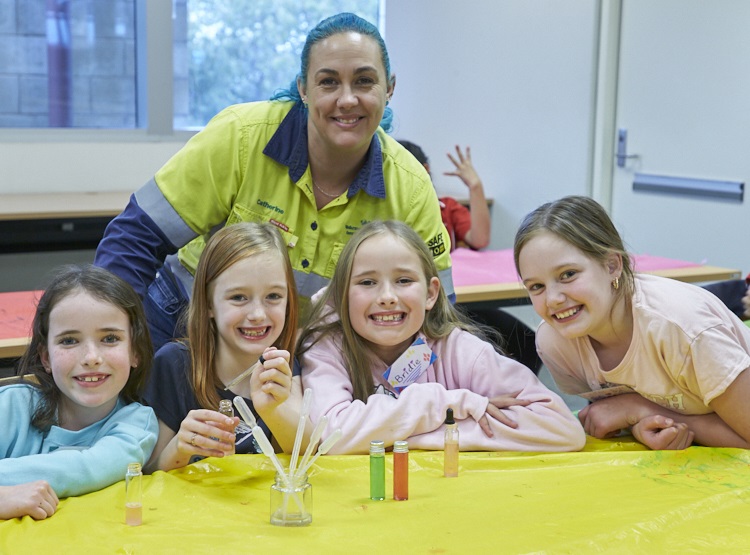 As a leading Western Australian chemical, mining and agriculture solutions business, CSBP, is supporting a school program that encourages young female students to become 'little science geniuses'.
As part of its annual local community grants program, CSBP funded a series of primary school workshops for female students to inspire and empower them to take on the world of science, technology, engineering and maths (STEM).
Workshops were held over eight weeks at Rockingham's Warnbro Library, a short distance from where CSBP operates its plants, in the neighbouring area of Kwinana.
Topics such as the laws of motion, science of light, chemistry, the ecology of coral reefs, hydraulics and palaeontology were packaged together in a fun, hands-on approach to encourage the girls to become 'little science geniuses'.
A highlight of the program was the participation of volunteer CSBP team members, who have each built a successful career in differing fields of science and were keen to share their excitement of working in science through the organised activities.
CSBP has been a strong supporter of increasing female representation in STEM and initiatives like the little science geniuses' workshops are a way to encourage students to think about what opportunities are available to them in the future.
With more than 80 participants, the program was well received and a wait list of students has been created for next year.
This program adds to CSBP's support of community programs in Kwinana and Rockingham, which dates back more than 50 years, working collaboratively within these communities to develop partnerships that create positive and lasting impacts for generations to come.