Industrial and Safety - Waste and packaging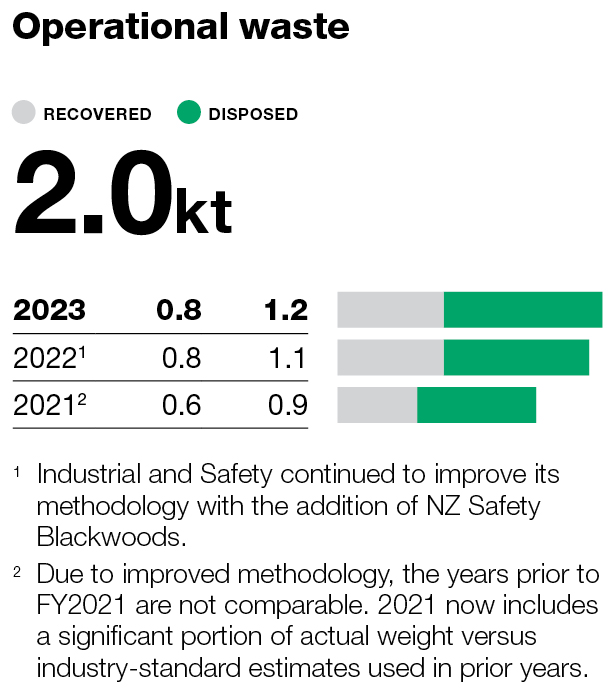 The Industrial and Safety division strives to reduce waste to landfill where possible by making better use of available resources and improving recycling capabilities. This extends to packaging as the businesses commit to the national packaging targets or industry equivalents.
Minimising waste
In the 2022 financial year, Blackwoods committed to zero waste to landfill by 2032 and has remained consistent in the past two years at diverting approximately 30 per cent of operational waste from landfill. A site waste audit was conducted at its Sydney distribution centre, resulting in improvement initiatives to be launched in the 2024 financial year.
Blackwoods continued its partnership with ACT Logistics in recycling and repurposing e-waste. The Blackwoods own-brand industrial workwear range will transition to recyclable polybags with in-built moisture control properties throughout 2023, as orders are raised. These polybags are made from 100 per cent recycled content.
NZ Safety Blackwoods is committed to reducing its waste to landfill, improving recycling capabilities and ensuring packaging introduced into the supply chain is recyclable. NZ Safety Blackwoods reviewed its waste streams within its trade centres and introduced soft plastic recycling via its waste management provider in 25 of its 32 sites, with ongoing work to implement a solution in the remaining sites. A waste improvement blueprint is under development for all sites to review their waste pickups to improve waste stream management and reduce costs associated with waste.
Coregas circularity initiatives this year included phasing out single-use cylinders and appropriately disposing and recycling of cylinders at end-of-life, through third-party providers.
Workwear Group developed year-on-year reduction targets to decrease overall waste and waste to landfill. To achieve these targets, Workwear Group developed a packaging standard for all brands, which will ensure no plastic clips or kimble tags, only one swing ticket, a recyclable plastic garment bag, recycled product content, and mandatory recycling instructions for packaging. Workwear Group's packaging standard was finalised in May 2023 and the business commenced implementation in June 2023.
Workwear Group's actions also targeted the minimisation of single-use plastics, increasing recycled content and improving recoverability. Other activities to support waste reduction included the introduction of garment recycling bins into all sites, education to improve segregation of waste, the introduction of a coloured soft plastics recycling program in Victoria, and ongoing engagement with textile recyclers.