Officeworks - Community connection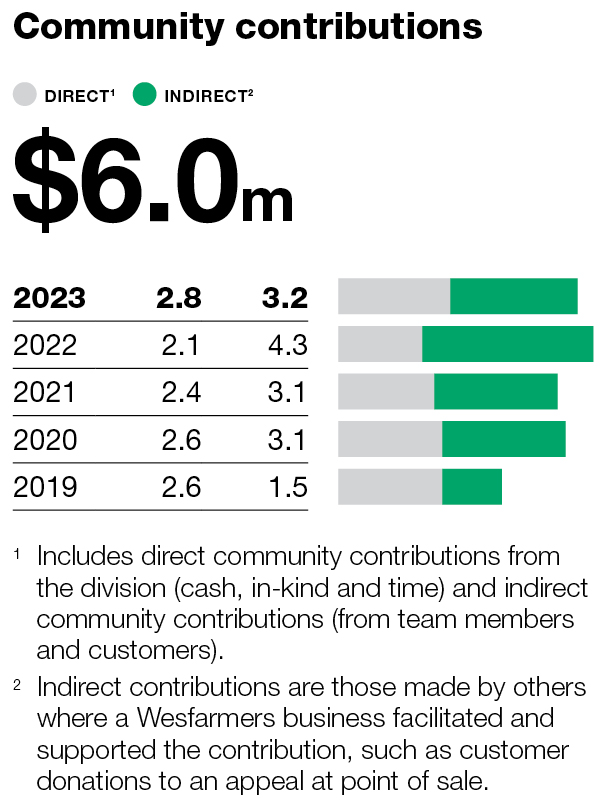 Officeworks is committed to supporting the communities in which it operates and is passionate about building meaningful connections that help others to overcome challenging circumstances and thrive.
To support the diverse needs of its local communities, Officeworks aims to empower its team members across Australia to support causes and organisations in ways that are meaningful to their local communities. Officeworks' annual Make a Difference Appeal allows customers to round up the cost of their purchases, contributing financial support to local and regional causes. In the 2023 financial year, the Appeal focused on supporting charities that enable children to learn, create and connect for a sustainable future and included charities and organisations that have a strong focus on education, sustainability and biodiversity.
Together with its customers, Officeworks raised more than $920,000 in the 2023 financial year, with a further $22,600 raised in July 2023 through its Make a Difference Appeal. Supporting 15 organisations across the country, Officeworks continues to raise funds to respond to the unique challenges its local communities are facing. The fundraising efforts will help to ensure these organisations can continue their work within their local communities and help make a positive difference to the lives of children. Organisations supported by Officeworks can be found here: https://www.officeworks.com.au/noteworthy/post/people-planet-make-a-difference-appeal
One of Officeworks' strategic priorities is promoting strong educational outcomes for all Australian students. In the 2023 financial year, Officeworks focused on the donation of educational materials to Australian students. This included providing 287 retired laptops to students of The Smith Family to provide them with access to the digital resources required for learning and educational development.

Aiming to uplift and provide support to Australian children in rural communities, Officeworks has helped more than 1,000 students in rural and remote Australian schools via community organisation, Doin' it for Rural Aussie Kids, through in-kind donations of printing and stationery items.
To continue its focus on supporting education in remote Aboriginal and Torres Strait Islander communities, the Officeworks Stuart Park team members helped a pre-school in the Indigenous community of Angurugu, located 650 kilometres east of the store in the East Arnhem region of the Northern Territory.  Angurugu School is the first pre-school in the area and is supported by community Elders and volunteer teachers to enable students to learn about their culture and country in conjunction with early childhood development programs. To support the pre-school students throughout the year and to cover the cost of educational materials, Officeworks Stuart Park donated more than $900 worth of educational and arts and crafts supplies to Angurugu School, including puzzles, activity sets, art smocks, paint sets, scrapbooks and wooden musical instruments.  

Together with decade-long partners, The Australian Literacy and Numeracy Foundation (ALNF) and The Smith Family, Officeworks continues to identify opportunities and causes that support students who need it most. This includes helping to raise language, literacy and numeracy standards in Aboriginal and Torres Strait Islander communities across Australia through its partnership with ALNF, and by helping to cover educational costs, such as books, excursions and uniforms through work with The Smith Family. During the year, through its Literacy is Freedom and Back to School Appeals, Officeworks team members and customers raised more than $2.1 million, helping 7,640 Australian students with sponsorships and educational resources.

As part of its People and Planet Positive Plan commitments, Officeworks set a target to help 30,000 students who need it most by 2025. In the 2023 financial year, Officeworks supported 16,194 students across Australia and has surpassed its 2025 goal by helping more than 40,000 students across Australia since the 2020 financial year.

With the renewed focus and support of Officeworks' local community engagement team, providing support to small business customers continues to be one of Officeworks' long-term commitments. Officeworks store teams are encouraged and measured on the connections they create in their local communities, engaging with small businesses, local schools, community groups and not-for profit organisations to ensure Officeworks is using its scale to help as many small businesses as possible.

During the year, Officeworks helped more than 5,200 local small businesses, adopting targets to grow this support to an additional 5,000 small businesses in the 2024 financial year and 15,000 small businesses between 2020 and 2025.