Wesfarmers Health - Safety, health and wellbeing
The safety, health and wellbeing of team members is a priority at Wesfarmers Health. Operating safely means protecting our team members and maintaining our licence to operate. This priority is managed through an approach to risk management and wellbeing centred on the principles of people, process and place:
people: empowered team members that proactively manage their wellbeing and apply safe behaviours to reduce risk
process: best practice systems that are guided by business needs and continuous improvement
place: an environment that sustainably supports safety and wellbeing for team members and customers.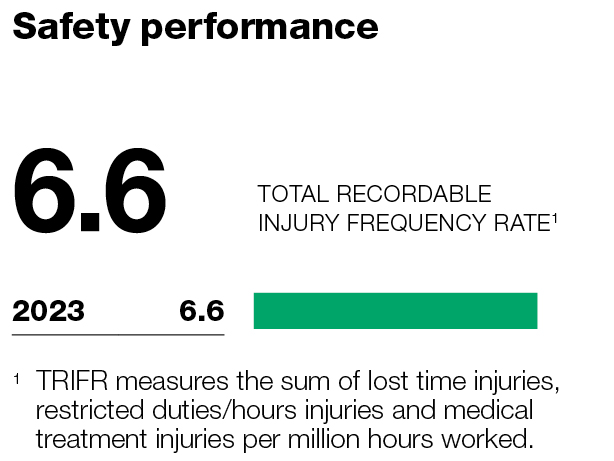 These principles are incorporated into how key safety, health and wellbeing focus areas are managed, including manual handling risks, emerging psychosocial hazards and team member wellbeing programs.

Wesfarmers Health has seen continued safety performance improvements in the 2023 financial year. Fewer team members have been injured than the prior year, resulting in a lower total recordable injury frequency rate of 6.6 at the end of the financial year.

There were 80 workers compensation claims during the 2023 financial year.

Manual handling is the primary cause of recordable injuries across Wesfarmers Health and remains a focus area. In the 2022 financial year, two manual-handling safety programs were launched in the wholesale business which resulted in a 30 per cent reduction in musculoskeletal injury claims lodged. Based on this success the Participative Ergonomics for Manual Handling (PErforM) and Manual Task Risk Assessment (ManTRA) programs were launched in the retail network in the 2023 financial year. PErforM assessments seek team member insights to develop and implement risk controls, and ManTRA assessments engage allied health professionals to assess operational tasks against five manual handling risk factors: repetition, awkward postures, excess force, duration and vibration.

Wesfarmers Health acknowledges the importance of growing societal and legislative awareness surrounding psychosocial risks in the workplace. During the 2023 financial year, a key safety, health and wellbeing program focused on psychosocial risk management to reduce the risk of mental harm to team members, while promoting positive mental health outcomes. The program aligns to the psychosocial risk profile of each business and raises awareness through industry-specific training, guidance materials and changing legislative compliance obligations.

The Wesfarmers Health mental wellbeing strategy offers a range of services to team members, including the Employee Assistance Program, Mental Health Partners network and NewAccess by Beyond Blue. Each service focuses on different mental wellbeing challenges that team members may face in their professional or personal lives.

Wesfarmers Health's focus on safety systems is further supported by its certification in ISO45001 International Standard for Occupational Health & Safety Management Systems.

The safety, health and wellbeing team will continue to broaden key risk management strategies focused on manual handling, psychosocial risk and positive mental health and wellbeing outcomes.

GRI 3-3, GRI 403-1, GRI 403-2, GRI 403-3, GRI 403-4, GRI 403-5, GRI 403-6, GRI 403-7