Covalent first ore and concentrator progress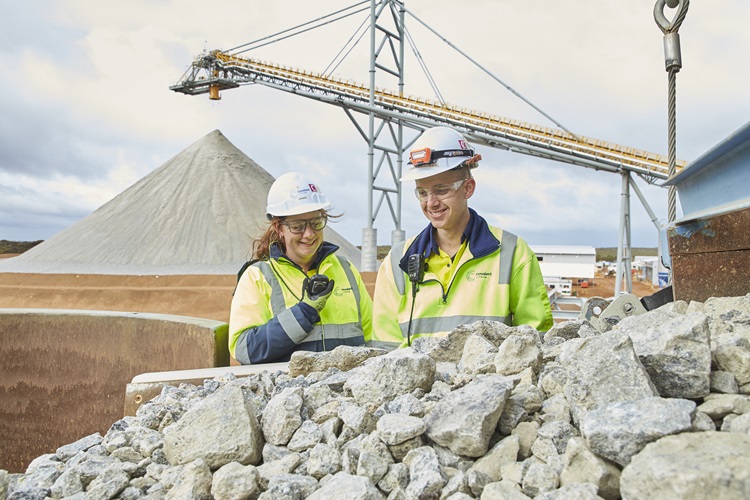 The future for the lithium industry is one of growth, driven by escalating global demand for electric vehicles and the world moving to decarbonise.
Responding to that demand is Western Australian business Covalent Lithium, a 50/50 joint venture between Wesfarmers and Sociedad Quimica y Minera (SQM), a Chilean company and one of the largest lithium chemical producers in the world. Together, the partners are investing more than $2 billion to produce battery-quality lithium hydroxide, an essential resource in the production of high-end electric vehicle batteries.
The partnership brings together SQM's significant knowledge and experience together with WesCEF's local expertise and history in project development, construction management and chemical processing capability.
As the managing and operating company appointed by the joint venture partners, Covalent Lithium is constructing a mine and concentrator at Mt Holland, 400 kilometres east of Perth, which will produce approximately 380,000 tonnes of spodumene concentrate each year. The bulk of the spodumene concentrate is destined for the integrated refinery being built in Kwinana to produce 50,000 tonnes of battery-grade lithium hydroxide each year, enough to support the production of batteries for one million electric vehicles.
Several project milestones were achieved during the year, including the mining of first ore in December 2022, followed by the start of the concentrator commissioning with first ore crushed in May 2023 and spodumene concentrate production is expected to commence late 2023, for sale in the 2024 financial year.
WesCEF is taking advantage of high market demand for lithium chemicals with plans to sell excess spodumene to the market in the 2024 financial year, while the construction and commissioning of the refinery is still in progress. First production of the lithium hydroxide is expected in the first half of calendar year 2025.
Covalent is undertaking a feasibility study to investigate the doubling of production capacity of the Mt Holland mine and concentrator to leverage the market shortfall expected in the short term.
Lithium is integral to the realisation of decarbonisation goals around the world and plays a critical role in the electrification of vehicles. WesCEF is proud that it will provide lithium hydroxide to help pave the way to a cleaner energy future.