Bullivants improving Indigenous employment prospects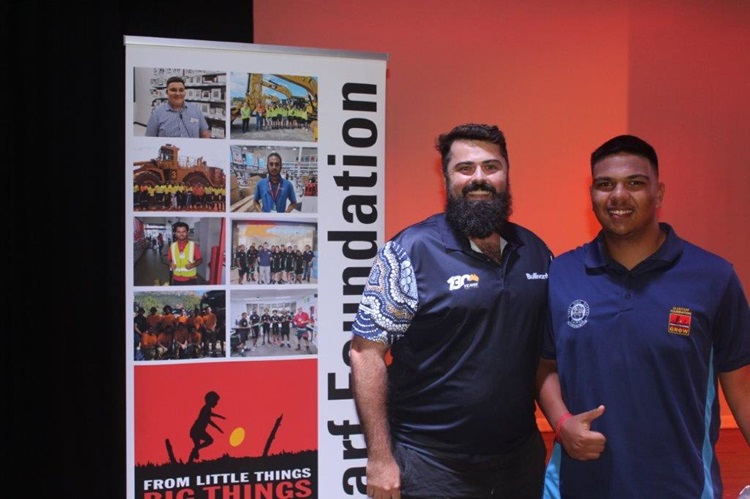 Bullivants is a proud partner of the Clontarf Foundation, which aims to improve the education, discipline, life skills, self-esteem and employment prospects of young Aboriginal and Torres Strait Islander men.
Through the Clontarf Foundation, Bullivants welcomed new trainee, Dakota May, to the Cairns team in May 2022 to support his interest in a career in mechanical engineering.
Dakota went on to win a Clontarf Employment award at Cairns State High School, recognising his work at the Bullivants Cairns branch.
Supervisor for the Bullivants Cairns branch, Daniel Maggs, presented the award.
'Dakota has shown a willingness to learn new tasks. He enjoys being hands on with the product and is showing more and more interest in the technical side of our business. We enjoyed having Dakota coming in every week,' Daniel said.
Dakota is proud to have been part of the Bullivants team and acknowledges the value of the traineeship in supporting his future career goals.
'My traineeship with Bullivants has been fun. I am learning a lot of new things, working with tools and machinery,' Dakota said.
'I haven't decided what I want to do after finishing school, but I am interested in the military, where I can study and work in mechanical engineering.
'Being Indigenous is special to my family and I love representing my culture. This is something I will pass on to the younger generation of Indigenous kids.'
Bullivants is excited to continue working with the Clontarf Foundation to grow its traineeships program.
To build on the work of the Clontarf Foundation, since 2018 Bullivants has financially supported Indigenous university students in completing their engineering degrees through the Bullivants Indigenous Scholarship Program.
For each year of their degree, the program grants three students $10,000 each and encourages their involvement in activities highlighting diversity and inclusion, meeting the Bullivants teams, and learning about lifting and rigging.