Officeworks - Health, safety and wellbeing
The safety, health and wellbeing of team members and customers remains Officeworks' number one priority. Officeworks' goal is to make sure everyone leaves its sites safe and well after working, shopping or visiting, free from any kind of harm or injury.
Officeworks recognises supporting the health and safety of its team is not just about physical wellbeing but also about achieving positive mental health and wellbeing outcomes that enables its team members to bring their best selves to work, every day.

Officeworks is on track to deliver its safest year yet and in the 2023 financial year, continued to see improvement in its safety performance, with its total recordable injury frequency rate of 5.4, meeting its target.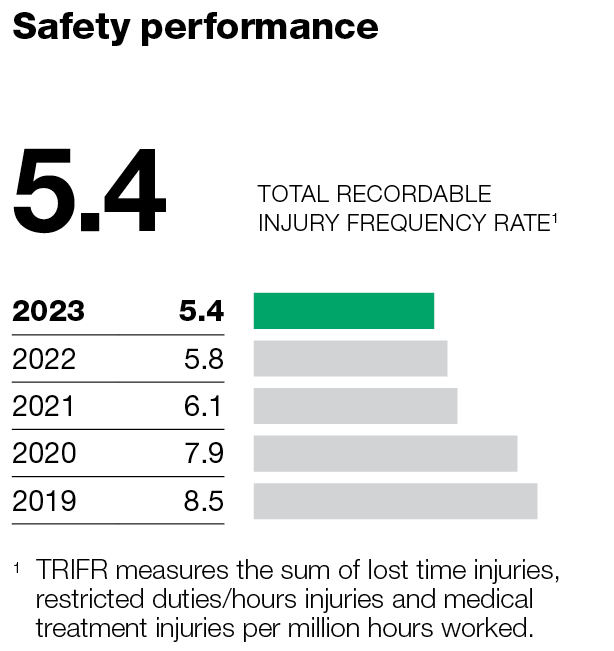 To further elevate a safety-first culture, Officeworks progressed rollout of its safety behaviour program, Switch On. The program provides training and resources to help develop and sustain a safety culture of awareness, accountability and courage. This engaged team members from the leadership team, store operations and supply chain, and provided resources to help embed a safety mindset in all locations and across all levels of the business.
Officeworks' health and wellbeing program, Your Best Life, continued during the year and team members were provided with the tools, resources and initiatives to improve their health and wellbeing. This included the launch of an 'always on' health and wellbeing app, Converge Life, to all areas of the business, mental health awareness sessions and the continuation of a Mental Health Oversight Committee. Established in the 2021 financial year, the Mental Health Oversight Committee has expanded to include representation across stores, distribution centres and support offices, and aims to focus on the development of strategic mental health and wellbeing processes, including psychosocial risk assessments and crisis protocols.
A focus on hazard reduction was also key to improving safety standards and embedding a 'switch on' culture. This included implementing traffic management for external receiving areas in all stores, store health checks to support assurance and compliance, trials of wearable technology, such as a deterrent and mitigation of threatening situations, and psychosocial risk assessments. Officeworks continues to review its critical risks through its audit program, analysis of incidents to validate effectiveness of controls and identifying emerging risks as part of its health, safety and wellbeing program.

As a result of Officeworks' focus on the safety, health and wellbeing of its team members, Officeworks was recognised as Best Health and Wellbeing Program and Best Mental Health Program at the National Safety Awards of Excellence run by The National Safety Council of Australia in November 2022.

Officeworks continues to foster an environment where safety is viewed beyond the risk of physical harm, building a psychologically safe workplace where team members feel comfortable to speak up and be champions of safety – both physically and psychologically. In the future, Officeworks will look to advance its development of mental health literacy and awareness in team members, reducing stigma around mental health, improving early interventions and providing resources, including e-learning resources and integration into current leadership development programs.

GRI 3-3, GRI 403-1, GRI 403-2, GRI 403-3, GRI 403-4, GRI 403-5, GRI 403-6, GRI 403-7