Industrial and Safety - Climate change resilience
Industrial and Safety (excluding Coregas) is targeting a reduction in Scope 1 and Scope 2 emissions by 45 per cent by 2025, relative to a financial year 2018 baseline and net zero Scope 1 and Scope 2 by 2035. Coregas' target is a 30 per cent reduction by 2035, relative to a financial year 2022 baseline, and net zero Scope 1 and Scope 2 by 2050.
The division continued to build climate resilience across its businesses, lowering Scope 1 and Scope 2 market-based emissions by 6.8 per cent excluding Coregas. Coregas increased its overall emissions during the period due to increased production of gases to meet business demand resulting in higher electricity use in its Mackay air separation unit. The division remains on track to deliver against its interim and net zero targets.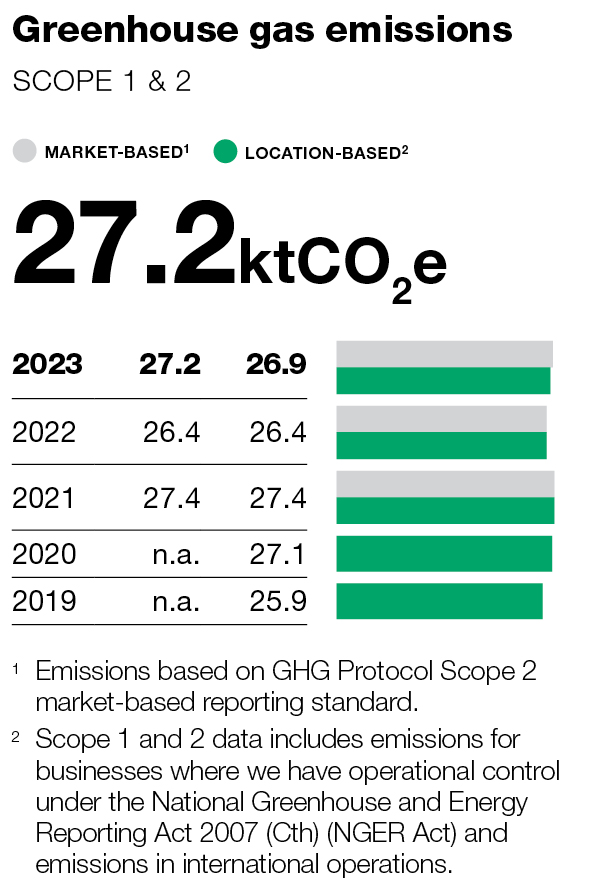 Energy efficiency
During the 2023 financial year, Blackwoods focused on better understanding its LED footprint across all sites and assessing the lighting in its warehouses, carparks and office areas. The business has formed a plan for lighting upgrades, with implementation scheduled for the 2024 financial year and has aligned with partners that can support the rollout. Solar generation plans for the Melbourne distribution centre have been temporarily paused due to other operational priorities, but this remains on the activity plan for the remainder of calendar year 2023.
Workwear Group's Port Melbourne office implemented LED lighting and solar panels and the Melbourne Airport distribution centre is finalising the approvals process to install solar panels.
Energy and emissions reduction activities at Coregas include optimising its Ortec bulk freight distribution efficiency software (to improve fuel efficiency) and its branch solar energy review.
Fuel reduction
Blackwoods' fuel use remains a material part of its emission generation and the business is trialling its first electric vehicle. This trial is to coincide with the existing transition to hybrids at the end of vehicle lease plans, underpinned by the corporate plan.
Fuel reduction and waste are two key areas of focus for NZ Safety Blackwoods, given the high level of existing renewable energy generation in New Zealand. The business is on target to transition to a full fleet of hybrid vehicles by the end of 2024 and currently has 88 hybrid and 17 non-hybrid vehicles. NZ Safety Blackwoods has also signed up to the New Zealand Energy Certificate System (NZECs) which reduced Scope 2 market-based emissions to zero for the business from 1 April 2023.
Coregas' hydrogen-based projects in the 2023 financial year included:
commissioning of the Port Kembla hydrogen refueller for the refuelling of heavy-duty vehicles

potential extension of the Port Hastings hydrogen liquification project.