Kmart Group - Sustainable operations
Kmart Group's operations include its stores and distribution network, where lighting and heating generate emissions and waste occurs. As a major Australian retailer, Kmart Group is taking proactive steps toward minimising our impact.
Energy and emissions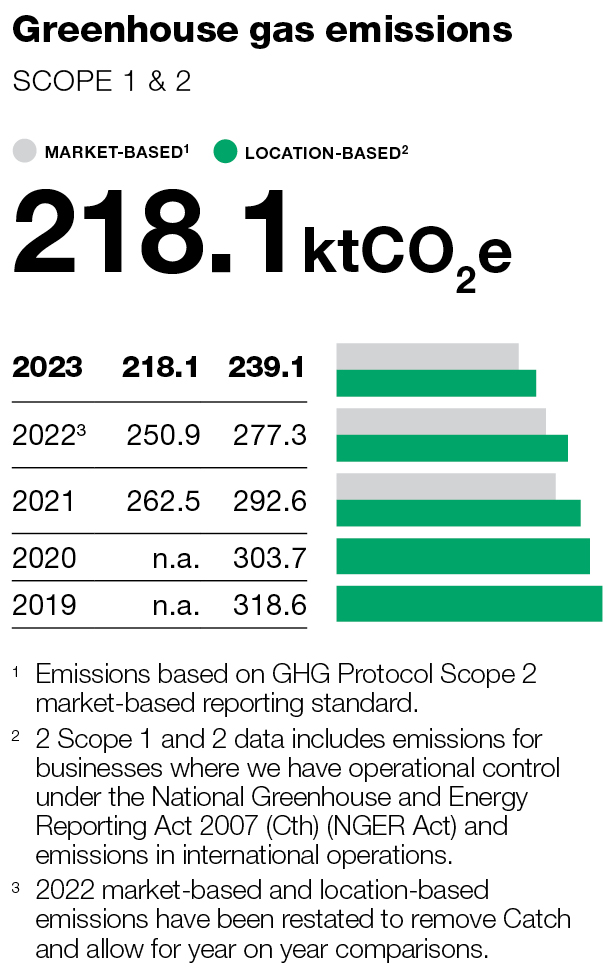 During the 2023 financial year, Kmart Group's Scope 1 and Scope 2 market-based emissions reduced by 13.1 per cent to 218.1 kilotonnes of CO2e, principally due to revised emission factors nationally, reflecting the increased contribution of renewable energy to grid electricity. Kmart Group also took steps to reduce its total energy demand. Elevated energy market prices have made additional energy efficiency projects viable. These projects will focus on the delivery of improved lighting and lighting controls across the store and distribution centre network and associated heating system adjustments. These projects, with additional rooftop solar, are expected to reduce total energy demand by as much as four per cent by 2026.

Kmart Group has committed to power its owned and controlled operations (stores, distribution centres and offices) with 100 per cent renewable electricity by July 2025. Many Kmart Group stores operate in the embedded networks of shopping centres, which means solar installation not possible in many instances. During the 2023 financial year, Kmart Group developed a detailed procurement strategy to meet its renewable electricity targets through a mix of name-plated renewable energy (PPAs) where possible and renewable energy certificates where required. This will be taken to market next year to secure renewable energy across the national network ahead of the July 2025 commitment deadline.

Kmart Group's Scope 3 emissions for the year totalled 11.3 megatonnes of CO2 e. Scope 3 emissions make up the majority of Kmart Group's total emissions. These emissions occur outside Kmart Group's direct operations, and occur in suppliers' operations, and by consumers during the use of Kmart Group products.. In the 2023 financial year, Kmart Group expanded its Scope 3 emissions inventory to include additional emissions sources in line with best practice, including the purchase of capital goods, employee commuting and a more detailed review of lifetime energy consumption of retail electronic products.

Kmart Group is working to deliver a Scope 3 emissions reduction roadmap in the 2024 financial year, which will quantify the potential of changes in Group procurement strategy and product design to reduce upstream and downstream Scope 3 emissions.
Waste and recycling

Kmart Group stores and distribution centres improved their waste diversion from 80 per cent to 82 per cent this financial year. Kmart Group utilised its waste and recycling dashboard to enable stores, regions and states to monitor and compare waste generation, diversion and bin density and deploy site-specific interventions to improve waste diversion. This includes expanding the suite of recycling services available and identifying where education and employee engagement is required to improve recycling outcomes. These initiatives have been implemented across all Kmart Group sites to help improve cost control, reduce waste and increase recycling to improve waste diversion.