Creating meaningful employment opportunities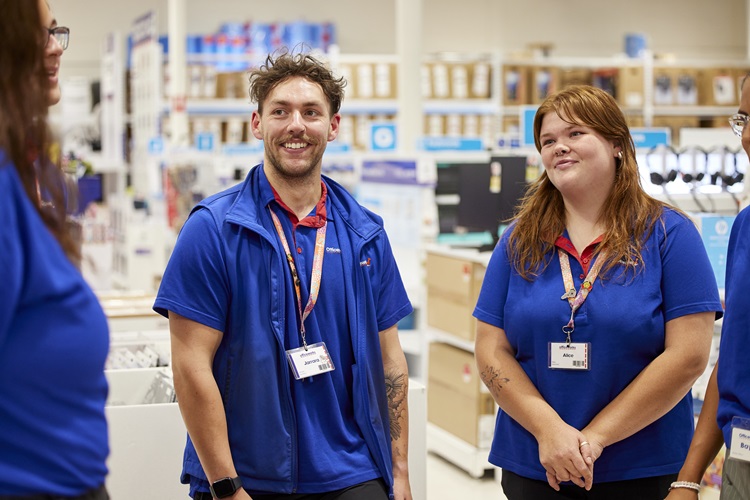 Officeworks recognises the value diversity brings and aims to celebrate people from all walks of life to create a culture of belonging that is reflected in the day-to-day behaviours of its team members at every location and every level of its business.
As a large retailer, Officeworks understands the important role it plays in ensuring its team members reflects the communities in which it operates and in supporting team members to be their authentic selves at work no matter their life experience, ability, age, ethnicity, religious beliefs and cultural background.
To respect and recognise Australia's First People, Officeworks is committed to building a greater understanding of their history, customs and culture, as well as providing career opportunities and support for Indigenous team members.

Aboriginal and Torres Strait Islander employment at Officeworks exceeds employment parity of three per cent of its workforce with 3.3 per cent representation. Officeworks remains focused on sharing job opportunities with the Indigenous community via its dedicated Diversity and Inclusion team, where some team members identify as Indigenous and whose roles are to assist with recruiting, interviewing and supporting Indigenous team members during their time at Officeworks, while working with long-term partner, The Clontarf Foundation.

For the past five years, Officeworks has partnered with The Clontarf Foundation to create employment opportunities for young Aboriginal and Torres Strait Islander men by focusing on developing the values, skills and abilities that will assist in the transition to meaningful employment outcomes. The Clontarf Foundation uses a unique and innovative approach to support young Aboriginal and Torres Strait Islander men and in doing so, equips them to reach their full potential in society.

During the 2023 financial year, together alongside The Clontarf Foundation, Officeworks:

continued to foster its relationship with Clontarf academies at a local store level through Store Leadership Team (SLT) community engagement activities such as Sports Days (The purpose of these days is to provide an informal opportunity for young Aboriginal and Torres Strait Islander men to connect with Officeworks representatives and involves SLT watching or participating in training sessions with Clontarf Academy students.)



attended six Clontarf Career Days across New South Wales, Queensland and Western Australia with an aim to build awareness of employment pathways and provide Clontarf Academy students with the opportunity to speak with the Indigenous Engagement team at Officeworks whose role is to support them as part of the Officeworks recruitment process
participated in the Clontarf Employment Forum in Western Australia where Officeworks provided students with networking opportunities in a more formal structured environment to support employment
donated $3,339 made up of $1,000 in cash donations and the remaining in-kind product donations to support the work of the Clontarf Foundation and their students' educational and sporting needs throughout the year.
Additionally, as part of its commitment to creating meaningful employment opportunities for Indigenous team members, in the 2023 financial year, seven Officeworks team members took part in the Wesfarmers Indigenous Leadership Initiative to further develop their skills and leadership to create new employment pathways and opportunities in the future. The Wesfarmers Indigenous Leadership Initiative supports Indigenous team members to develop management and leadership skills and most importantly, how to work together to create a culturally safe environment for everyone.

Officeworks continues to work towards achieving the commitments outlined in the Wesfarmers Elevate Reconciliation Plan, including focusing on hiring, retaining and developing Indigenous team members within stores, support offices and customer fulfilment centres, while raising further awareness for Aboriginal and Torres Strait Islander history, culture and achievements.