Industrial and Safety - Community
The Industrial and Safety division strives to make a positive contribution to the communities in which it operates and recognises the importance of being a good corporate citizen by supporting a range of causes.
The division's community contributions in the 2023 financial year was nearly $0.8 million, which included direct contributions (stock and financial donations, corporate sponsorship and volunteering) and indirect contributions (workplace giving and customer donations).
Blackwoods, Bullivants, NZ Safety Blackwoods and Workwear Group supported the Cerebral Palsy Alliance September 10,000 step activity challenge.
Sponsorship and donations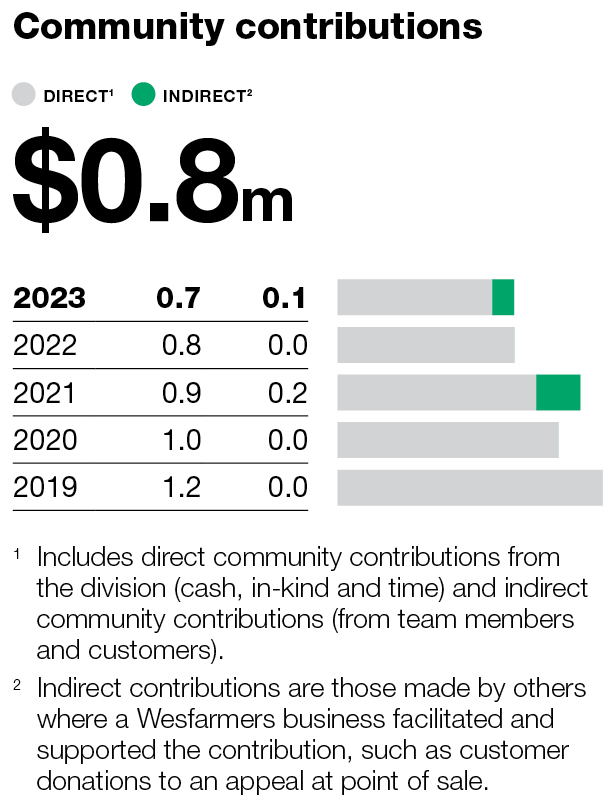 Since 2010, Blackwoods has partnered with The Fred Hollows Foundation which has a vision to improve access to eye care and eyewear. Blackwoods has donated 10 per cent of profits from the sale of PROSAFE eyewear, face shields and related accessories to The Foundation's Indigenous Australia Program.
To help close the gap in eye health, Blackwoods has donated more than $2.8 million to support The Foundation's work in Australia. This contribution supports increased investment in and access to culturally appropriate eye care services to remote and underserved Aboriginal and Torres Strait Islander communities. It helps deliver surgery and medical treatment for cataract, diabetic retinopathy and the elimination of trachoma, provides training and support to Aboriginal and Torres Strait Islander health staff, increases access to services for patients in remote areas and coordinates and improves outreach medical services.
NZ Safety Blackwoods supported KidsCan, with a portion of Tredlite product sales donated to the organisation. KidsCan is New Zealand's leading charity dedicated to helping children affected by poverty. The 2023 financial year was the fifth year of a five-year initial contract, with more than $500,000 raised during the period. NZ Safety Blackwoods used its inventory reduction program to identify charities it could donate its slow moving and obsolete stock. It contributed products valued at more than NZ$20,000 to the Cyclone Gabrielle support efforts.
Coregas provided ongoing support to the Royal Melbourne Hospital's intensive care unit and supported a range of other community events.
Workwear Group's second year of a partnership with The Big Issue delivered benefits, including refreshed uniforms for street vendors, stretch training program for the women distributing the magazine, team building opportunities, helping at the street soccer program, supporting The Big Sell, and raising funds for The Big Issue through a staff sample sale.