Officeworks Safety and Wellbeing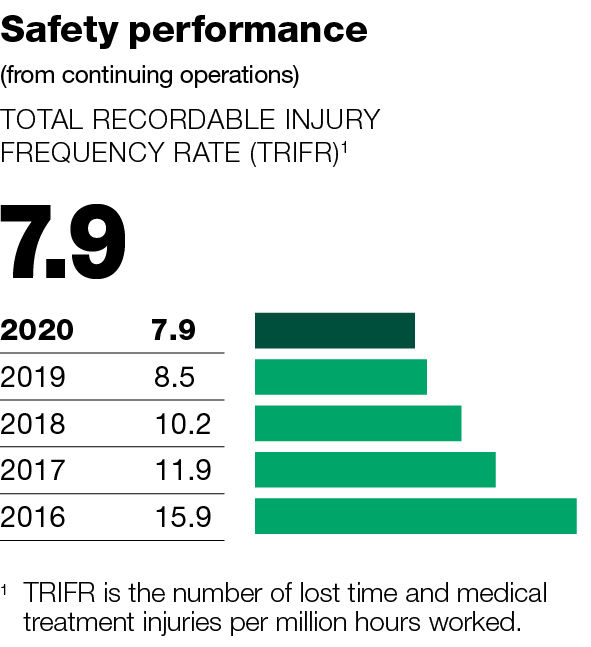 Officeworks is committed to keeping its team members and customers safe by creating an environment free from harm, which includes physical safety as well as individual health and wellbeing.

Improvement in Officeworks' safety performance continued during the period with the Total Recordable Injury Frequency Rate (TRIFR) reducing to 7.9 for the 2020 financial year. In real terms, this means that over the past 12 months, 66 team members have reported an injury. The most common of these injuries relate to manual handling and slips and trips. While one injury is one too many, a TRIFR of 7.9 represents a 7 per cent reduction when compared to last year.

Improvements in safety performance were supported by the implementation of the workflow incident report e-form, used for reporting incidents and determination of corrective action implementation. The initiative has increased focus on incident reporting and implementation of risk mitigation strategies.

The strategic focus for safety and wellbeing was rapidly transformed in the second half of the year, as the business responded to risks presented by COVID-19. Recognising the urgency and severity of the risks, Officeworks introduced an agile approach to introduce protocols for managing exposure to COVID-19 that enabled the business to adapt as the situation changed, in order to prioritise the safety of team members and customers. As at 30 June 2020, Officeworks facilities were inspected 42 times by government agencies to monitor adherence to social distancing, with zero non-conformances identified. On 30 June 2020, the first Officeworks team member case of COVID-19 was detected at the Laverton Customer Fulfilment Centre, after which point actions were instigated to remedy the situation, including testing of team members and a deep clean of the site.

Officeworks will continue to educate team members and customers on the changing landscape to prioritise their safety and wellbeing.

In addition to monitoring and adapting to the ongoing risks of COVID-19, Officeworks will launch a health and wellbeing strategy, Your Best Life, in the 2021 financial year. This aims to encourages team members to take the time to focus on their mental and physical wellbeing, with programs that support wellbeing for the mind, body and soul.