Bunnings' support for flood affected communities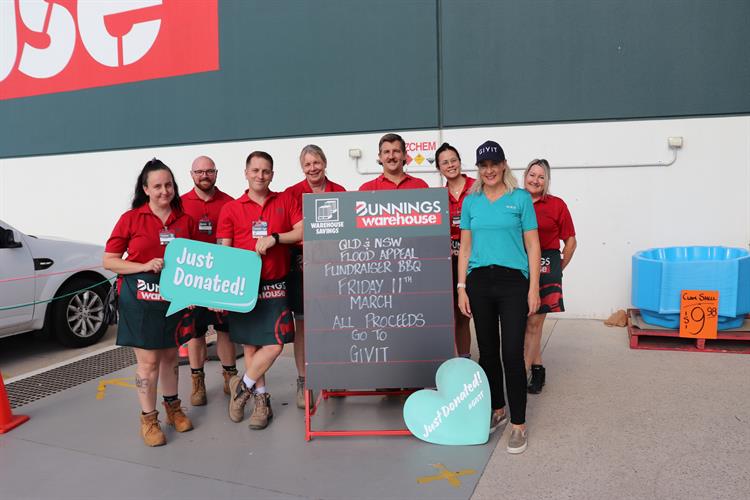 In February and March 2022, communities in northern New South Wales and southern Queensland were once again hit by devastating storms and floods, which had a widespread and significant impact. To help these communities get back on their feet, Bunnings proudly raised and contributed over $620,000 through the support and generosity of team members and customers.
As always, Bunnings' priority was caring for its team and the local community. The Bunnings team immediately assisted on the ground with product contributions and practical care for those who were displaced. This included donating care packs and $50,000 worth of items such as generators, stoves, drinking water, cleaning, storage, and safety products to assist local businesses, community organisations and homeless shelters.
In local evacuation centres, the team supported volunteers and kept morale up with Bunnings' building block kits, and craft items. Local teams also joined with the Salvation Army disaster management crews, helping to cook breakfast, lunch, and dinner for those in need. With power out in many areas, Bunnings provided cooking and gas appliances to homeless shelters supporting the disadvantaged, as well as working alongside the local SES, Rotary, sporting clubs, schools, and scouts.
In the first weeks following the disaster, Bunnings donated $20,000 to Convoy of Hope, who were on the ground in impacted areas providing hands-on support. Bunnings also donated $50,000 to not-for-profit organisation GIVIT, to assist with their work to provide essential goods to those in need.
In March 2022, the Bunnings team ran community sausage sizzles at all stores nationally, raising funds for GIVIT. Thanks to the generous efforts of Bunnings' customers and team members, $500,000 was raised and contributed to GIVIT who worked to ensure immediate support went where it was needed most.
Local Bunnings store teams will continue to work closely with the affected communities in the longer-term recovery and rebuild effort.