Kmart Group - Health, safety and wellbeing
Kmart Group is committed to improving the health, safety and wellbeing of team members and providing a safe shopping experience for customers.
Kmart finished the 2022 financial year with a nine per cent reduction in its total recordable injury frequency rate (TRIFR) to 9.7. Target achieved a ninth consecutive year of improved safety performance with a 20 per cent TRIFR reduction to 4.8, while Catch achieved a TRIFR of 2.1. Kmart Group recorded a combined TRIFR of 8.3.
Kmart Group continued its implementation of a comprehensive COVID-19 risk control strategy in response to the COVID-19 public health emergency that has enabled all Kmart Group sites to provide a safe working and shopping environment, and comply with evolving government restrictions.
Kmart
Kmart's platform for continuous improvement continued to be guided by its established four pillars of safety, regulatory compliance, wellbeing and injury management.
Despite the evolving situation related to the highly contagious Omicron variant, the management of COVID-19 was underpinned by a strong risk management protocol, including compliance with local requirements, promotion of vaccination, mask use and social distance. In addition, Kmart dedicated extra resourcing to pandemic management, permitting business continuity in other health and safety matters across the business.
Kmart has invested resources and time in the development of critical risk management protocols, specifically for the protection of pedestrians from vehicles, objects falling from heights and other threatening situations. This program has been an inclusive one of consultation, training and verification. Kmart has an ongoing commitment to this work as an integrated part of the work health safety management system.
For team members, personal protective equipment standards, safety training including competency and management of plant and equipment remain the highest of priorities. Kmart strives to ensure all team members participate in hazard awareness training with an open and transparent safety leadership culture. All incidents, including identified hazards, are tracked and a consistent investigation program is in place to ensure that continuous improvement opportunities are identified.
Kmart continues to invest in providing access to mental health training, psychosocial hazard awareness programs for leaders and the delivery of wellbeing services for all team members.
Alongside the delivery of these major change programs, Kmart continued to achieve a strong safety result with an 8.5 per cent TRIFR reduction to 9.7 and reduction of new workers compensation claims by 11.9 per cent to 413.
Target
Target achieved a ninth consecutive year of improved safety performance with a 21.3 per cent TRIFR reduction to 4.8 and reduction of new workers compensation claims by 43 per cent to 49.
The significant improvement in safety performance has been attributed to increased focus on proactive hazard and near-miss incident reporting to address and mitigate risks.
The improved performance was observed over a disruptive period of change impacted by COVID-19 and the closure or conversion of some Target stores within the financial year. Target invested resources into managing COVID-19 restrictions, preventive measures and vaccination requirements while ensuring the safety and wellbeing of team members, customers and contractors.
Other key achievements over the financial year included the enhancement of the wellbeing program, which provided core support to team members and family during state government directed lockdowns, in addition to the paid COVID-19 leave provided to impacted team members. This was supported by a $2.06 million investment of additional capital expenditure as part of Target's hazard reduction program.
Catch
Catch maintained a strong TRIFR result of 2.1 in the year. Catch's implementation of the CatchSAFE Safety Management System (SMS) has ensured a strong focus on continuous improvement and effectiveness of safety standards. The SMS will play a key role in driving the safety strategy into the future.
Catch has continued to invest in technology to improve safety maturity by empowering worker participation. The introduction of Donesafe software to all sites resulted in the capture and actioning of 622 hazards and 878 behaviour safety observations. Donesafe will be a key enabler in improving safety maturity across the workforce.
Catch will continue to focus on critical risk management and execution of effective training to build strong foundations for a sustainable safety culture into the future.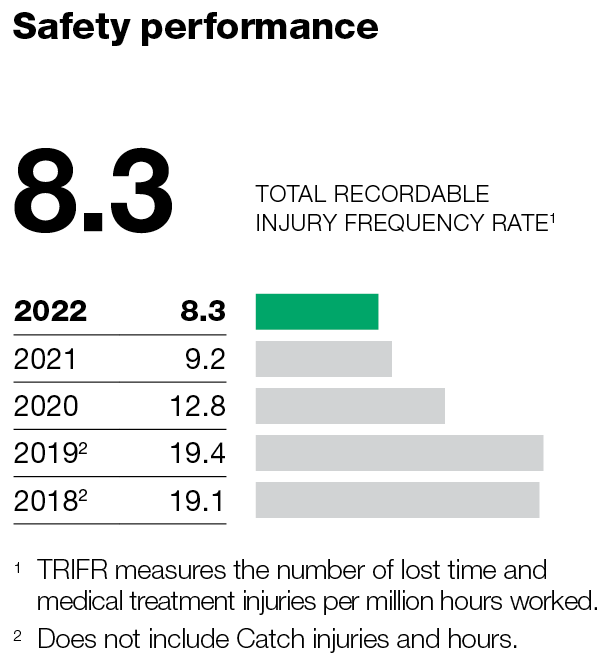 GRI 103-1, GRI 103-2, GRI 103-3, GRI 403-1, GRI 403-2, GRI 403-3, GRI 403-4, GRI 403-5, GRI 403-6, GRI 403-7