At Wesfarmers, we believe gender balance ensures that there are equitable opportunities for individuals notwithstanding their gender. This includes ensuring equitable access to employment, compensation benefits, and development opportunities across the organisation. On any team, we strive for a minimum 40 per cent female and 40 per cent male, with the remaining 20 per cent being of any gender or gender diverse. The Wesfarmers Board will maintain a composition of not less than 30 per cent female.
The Wesfarmers Board (excluding Executive Director Rob Scott) maintains female representation above 30 per cent at 44 per cent women. The Wesfarmers Leadership Team is balanced with 50 per cent female and 50 per cent male members, as is the total Wesfarmers workforce, comprising 57 per cent female and 43 per cent male team members.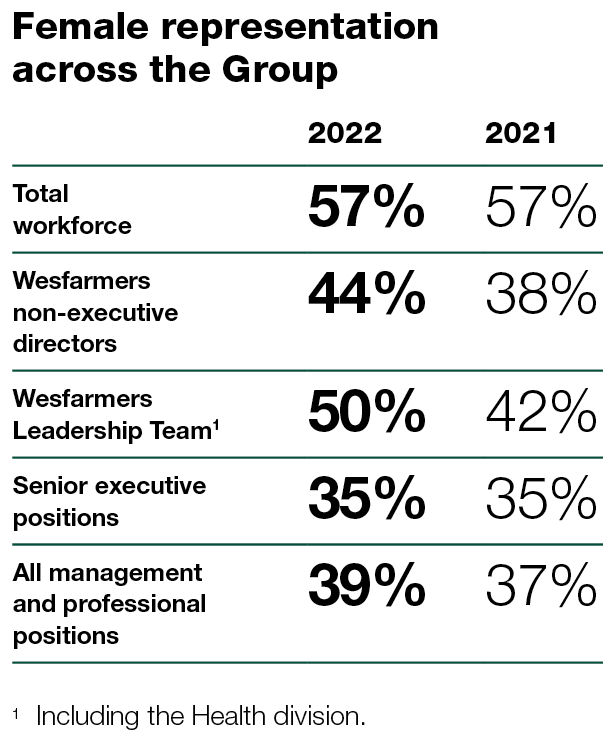 There are opportunities to strengthen gender balance in senior executive positions, with 65 per cent of senior executive roles held by male team members. During the year, balance among management and professional roles improved with 39 per cent of positions held by female team members, an increase from 37 per cent 12 months earlier.
Wesfarmers supports its divisions to build a gender-balanced workforce by regularly discussing progress, connecting them with companies from other industries and providing access to expert thinking and research through memberships and forums.
The Group Managing Director meets with each divisional managing director twice a year to discuss succession plans and the pipelines into leadership roles, including how divisions are attracting, retaining and promoting current and future female leaders. In addition, the managing directors and human resource directors meet collectively to support talent identification, calibration and mobility across the Group. The Group continues to review the evolving requirements, capabilities and experiences of future leaders, including by applying a diversity lens. In the most recent of these reviews (April/May 2022):
Thirty-four women (39 per cent of all successors) were nominated as potential successors to divisional leadership team roles
Three women (38 per cent) were nominated as ready now or ready in one to two years as successors to divisional managing director roles and two women (20 per cent) were nominated as ready successors in three or more years. Identification, recruitment, and development efforts will continue to focus on longer-term succession pipelines.
Within our divisions, talent reviews and people-planning sessions are conducted every six months. The consideration of gender balance is standard within these discussions, as well as action to sustain or move towards balance.
Each Wesfarmers divisional managing director has gender balance objectives incorporated into their performance objectives and each division has its own gender balance and inclusion plan. Progress on gender balance is reported monthly via HR metrics reporting and more formally on an annual basis to the Group and Divisional Boards through diversity and inclusion reports.
Wesfarmers is a signatory to the United Nations Women's Empowerment Principles. Wesfarmers' support of the principles is consistent with its ongoing commitment to gender balance and aligned to the work currently underway across the Group.
Every year, Wesfarmers businesses lodge separate annual compliance reports with the Workplace Gender Equality Agency (WGEA). A copy of these reports can be obtained via the WGEA website.
GRI 103-1, GRI 103-2, GRI 103 -3, GRI 405-1, GRI 406-1