Circular economy
Managing resources responsibly resonates with
our team members and customers, reduces our
environmental impact and enhances our reputation.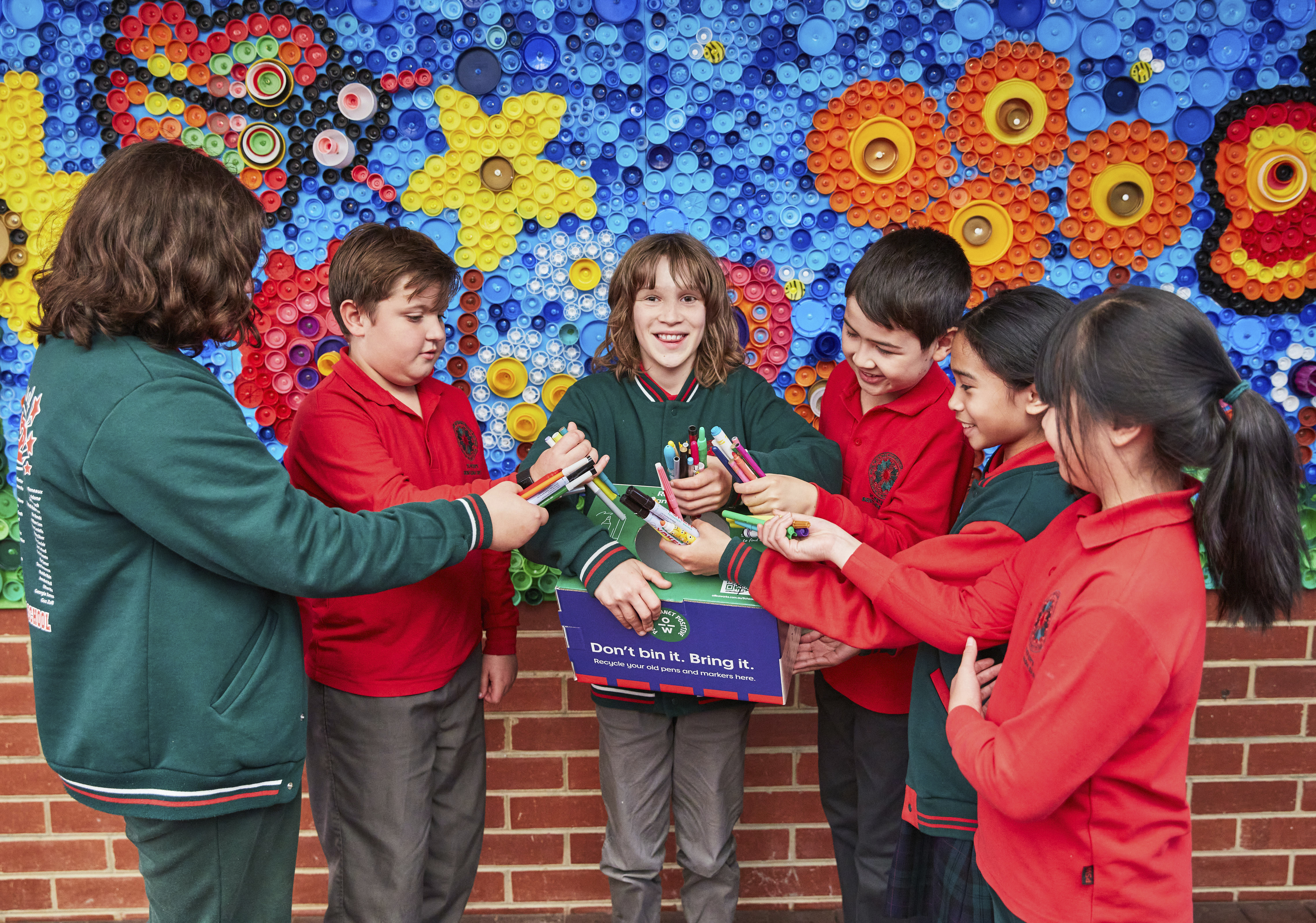 At Wesfarmers, we are working hard to reduce our environmental impact. We recognise the world has limited natural resources and we can reduce our impact and drive long-term value by becoming a more circular business.
Increasingly, our businesses are focusing on maximising the long-term value of the products we sell and resources we use, by keeping our assets, products, product components and materials, at their highest value for as long as possible, through better design. As well as safeguarding future access to these resources, these strategies support efforts to reduce waste, pollution, and our climate impact. Importantly, they also align with emerging customer expectations and support the resilience of our businesses.
Over the past two years, our businesses have developed and introduced more circular strategies. Where possible, we are increasingly designing products made from recycled and sustainably sourced materials and products that last, can be reused and where embedded resources can be recycled at end of life. We are making it clearer to our customers where products are designed to incorporate circular principles.
Further progressing the circular economy requires collaboration across supply chains and between government and industry to achieve systematic change. To support this change, the Group is engaged in numerous industry groups, including the Australasian Packaging Covenant Organisation (APCO).
During the year, Wesfarmers developed a framework of circular economy metrics, to better measure and manage circular performance and to influence circular strategy. In the coming year, we will use this framework to track and report additional circular indicators, and to encourage collaboration across divisions and functions to identify opportunities to further embed circularity in our businesses.
Waste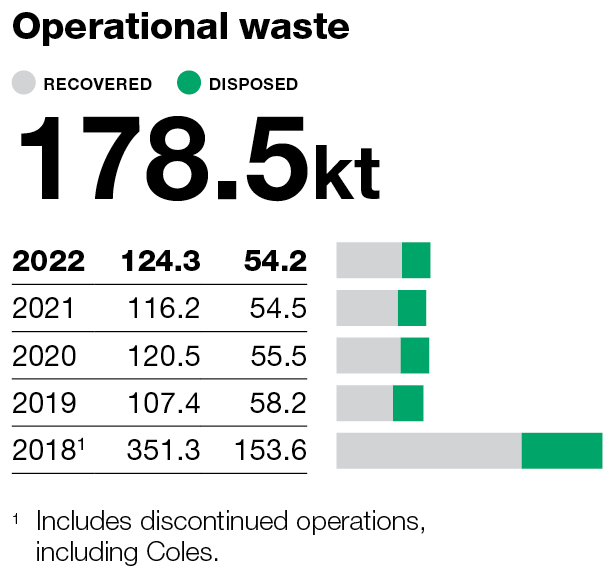 Reducing operational waste continues to be a major focus. Product and packaging waste is reduced through circular strategies. Our divisions are diverting waste from landfill, recognising this delivers environmental and financial benefits, while also meeting growing expectations among our customers.
This year, Group operational waste disposed to landfill totalled approximately 54.2 kilotonnes, a reduction of 0.5 per cent from last year. Waste diverted from landfill and recovered, including for recycling, totalled approximately 124.3 kilotonnes, an increase of 7.0 per cent.
Bunnings diverted nearly 55 per cent of its operational waste from landfill, Kmart Group diverted over 80 per cent, and Officeworks diverted 88 per cent. Improved waste diversion was achieved by increasing reusable packaging, reducing the use of non-recyclable materials, reviewing the terms of waste and recycling contracts and better using data to develop new initiatives.
Bunnings, Kmart Group and Officeworks worked with social enterprises, businesses and community and not-for-profit organisations to provide recycling programs for products including batteries, paint and electrical items such as power tools and e-waste.
Packaging and plastic
In 2018, Australian federal and state governments set packaging and plastic targets applicable to all packaging made, used and sold in Australia. The targets include 100 per cent reusable, recyclable or compostable packaging, 50 per cent average recycled content, and phasing out single-use plastics by 2025.
These targets apply to Bunnings, Kmart Group, Officeworks, Blackwoods and Workwear Group, as they are APCO signatories.
Bunnings, Kmart Group, Officeworks, Blackwoods and Workwear Group have plans in place to meet the 2025 packaging targets. We continue to report progress annually. While good progress has been made replacing plastic packaging of our products, significant focus is required to meet these 2025 targets.
GRI 103-1, GRI 103-2, GRI 103-3, GRI 306-1, GRI 306-2, GRI 306-3, GRI 306-4, GRI 306-5