Kmart Group - Human rights and ethical sourcing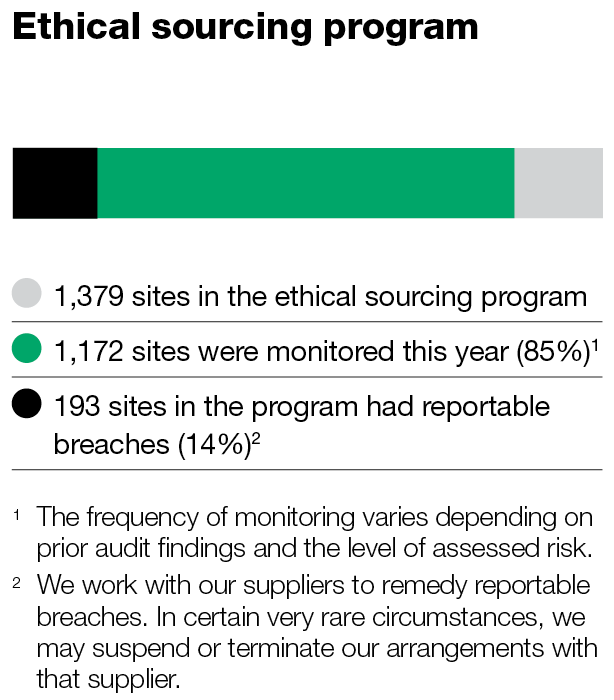 Kmart Group acknowledges its responsibility to ensure human rights are understood and respected, and to promote environmental sustainability within its supply chain. Stakeholders rightfully expect the retail products sold across the Kmart Group retail network are not produced in a way that compromise the rights of workers or adversely impacts the environment of sourcing countries.
The complexity and depth of supply chains remains a key challenge for Kmart Group in its ethical sourcing (ES) and wider sustainability efforts. The Kmart Group Ethical Sourcing Program includes a detailed compliance framework designed to support suppliers to meet the Kmart Group ethical sourcing standards. Factory disclosures and third-party factory audits are central to the program. Where critical, major and other non-conformances are identified, corrective actions are implemented and improvements are monitored through follow-up audits.
During the year, Kmart and Target worked to strengthen the Kmart Group Ethical Sourcing Program with a focus on improving ethical sourcing transparency beyond finished goods manufacturers, further up the supply chain into processing facilities, component manufacturers and suppliers of raw materials.
Processes were also put in place at Catch to ensure suppliers of Catch own-brand products are subject to a robust ES program.
Achievements in the 2022 financial year included:
Continuing the operation of a robust ethical sourcing program that includes over 1,379 Tier 1 supplier factories of which 1,172 (85 per cent) factories were monitored by third party ethical sourcing audits in the financial year.
Increased the reach of the Ethical Sourcing Transparency Policy setting out clear requirements under which Kmart Group suppliers, when requested, must disclose information about their supply chain. This includes information about any tier in the supply chain, including finished goods manufacturers, processing facilities, component manufacturers, up to suppliers of raw materials.
Rolled out a half-year disclosure process for suppliers of Kmart or Target own brand and licensed brand product (apparel and home textile) to complete a Modern Slavery Declaration and Survey regarding cotton sourcing and yarn and fabric manufacturers. The disclosure process aids in the mitigation of modern slavery risks arising from high risk cotton regions and supports continued efforts to map our Tier 2 and 3 processing facilities.
Through the Modern Slavery Declaration and Survey, Kmart Group identified a further 962 Tier 2 and 3 facilities involved in the process of yarn (spinner), weaving, knitting, dyeing, printing, finishing or washing. Kmart Group has now met its commitment to identify and publish the location of 100 per cent of processing facilities that produce own brand clothing, towel and bedding products. These facilities are now publicly disclosed on the Kmart and Target websites. This list will be updated every six months drawing on the latest information shared by suppliers on active facilities.
Recognising their broader transparency efforts, Kmart and Target achieved an equal first ranking in the 2022 Fashion Transparency Index (FTI). The FTI ranks 250 of the world's largest fashion brands and retailers according to information disclosed about social and environmental policies, practices and impacts, in their operations and supply chain. See more information here.
Nearly 60,000 female workers were enrolled in BSR HER+ training programs across 24 Kmart and Target supplier factories in Bangladesh, India, Indonesia and Vietnam. Kmart Group is now over halfway to achieving its public commitment to provide professional skills or health training to at least 100,000 women in its supply chain by December 2025. See more information here.
As part of Kmart Group's public commitments in the area of living wage and responsible purchasing, considerable progress has been made, including:

The continued implementation of a new open costing sheet with team members and Kmart and Target own brand apparel suppliers to itemise fabric, trim, manufacturing and factory overhead costs. Approximately 98 per cent of the apparel orders placed for Kmart and Target own brand clothing products in the past 12 months have complied with this open costing requirement. Kmart Group is now in the process of digitising this information with the Kmart and Target IT systems.
Continued roll-out of enhanced planning and forecasting mechanisms with strategic and core suppliers to improve accuracy of forecasts and maximise capacity planning in factories.
The implementation of a Responsible Exit Strategy and procedures in accordance with the ACT Responsible Exit Policy and Checklist.
Completed the implementation of the first ACT purchasing practices baseline assessment with team members and suppliers, with 51 responses received from suppliers and 75 responses from team members. The assessment is the key mechanism based on which Kmart Group will measure progress toward its living wage commitments.
COVID-19
The impact of COVID-19 continued to create challenges for suppliers this financial year, with flow-on impacts for the Kmart Group Ethical Sourcing Program. In response to further waves of COVID-19 in key sourcing countries, the Kmart Group Ethical Sourcing team provided support to suppliers in those countries, via training webinars and sharing best practices, to assist in their efforts to comply with government COVID-safe workplace safety guidelines and to pay worker wages fully and on time.
Travel restrictions, particularly in China, meant the Kmart Group Ethical Sourcing team was required, in some instances, to conduct virtual factory visits in place of normal face-to-face visits to verify basic labour compliance and COVID-19 safety measures within supplier factories. Despite this, Kmart Group managed to maintain implementation of its normal third-party ethical sourcing audit procedures throughout the year.