Bunnings - Health and wellbeing
At Bunnings, team members are at the heart of the business and their safety and wellbeing remain the highest priority. By striving to provide a safe environment for team members, customers, suppliers and visitors, Bunnings aims to ensure everyone returns home safely.
Bunnings' key focus is on eliminating fatalities and preventing work-related injuries, illnesses and incidents as well as protecting and promoting the wellbeing of the team.
During the year, the business focused on evolving the safety strategy through enabling leadership and engagement. More than 19,700 team members completed manual handling training, over 380 new leaders completed leading safety training and more than 260 forklift coaches completed forklift coach training. In addition to this, two forklift forums were conducted during the year at each site with more than 22,600 team members attending, and over 149,000 safety conversations were held.
Bunnings sharpened their focus on life-threatening risks and established steering committees to provide governance and oversight of the management of material risks. Additionally, Bunnings developed learning teams to refine learnings following a serious incident and evolved the safety campaign program.
In the 2022 financial year, the total recordable injury frequency rate remained the same as the previous year. The number of team member injuries recorded during the year decreased by 4.0 per cent, which is attributed to the easing of COVID-19 restrictions.
COVID-19 continued to present a risk to team member health and wellbeing. In March 2022, in partnership with BizHealth, Bunnings team members were offered COVID-19 vaccination booster doses through 75 vaccination hubs at centrally located stores in Australia. Bunnings also partnered with the Victorian Department of Health to establish 21 vaccination hubs at selected stores across Victoria to encourage community participation in the COVID-19 booster program.
Bunnings also focused on the mental health and wellbeing of their team, and during the year the Stronger Together wellbeing campaign continued, with a focus on taking a break and team gatherings to connect and check in on teammates.
During the year more than 16,700 team members completed mental health training. Enhanced mental health support was also provided for leaders across Australia and New Zealand to ensure they were supported and that could support their team.
Following the official launch of the Corporate Mental Health Alliance Australia in 2021, in November 2021 Bunnings ran a livestreamed panel discussion on balancing mental health, wellbeing and performance at work with more than 13,200 team members attending. Bunnings continued to contribute to the Corporate Mental Health Alliance as a founding member, to work collaboratively with other businesses towards a common goal of providing a mentally healthy workplace for all.
The focus for the year ahead will be to empower the Bunnings team to be physically and mentally at their best. Bunnings will create a mentally and physically safer workplace through their relentless focus on life threatening and life-altering risks, and will seek to boost capability and continuously improve by learning from incidents.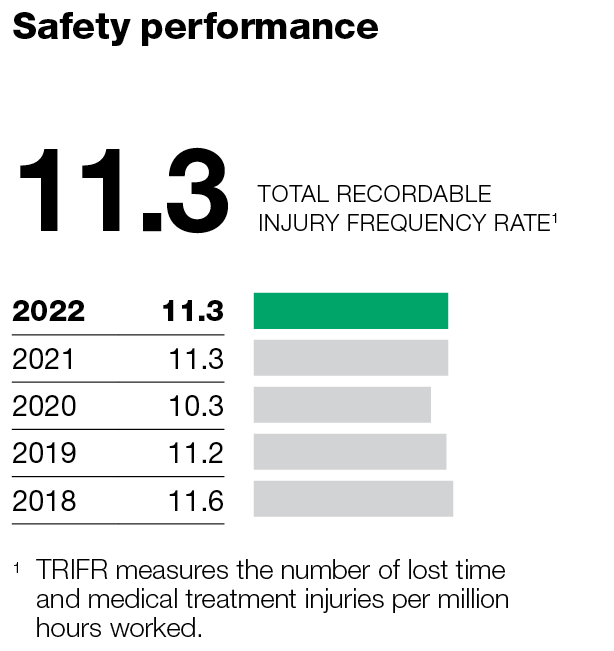 GRI 103-1, GRI 103-2, GRI 103-3, GRI 403-1, GRI 403-2, GRI 403-3, GRI 403-4, GRI 403-5, GRI 403-6, GRI 403-7