Worker helpline provides additional grievance mechanism to hear directly from workers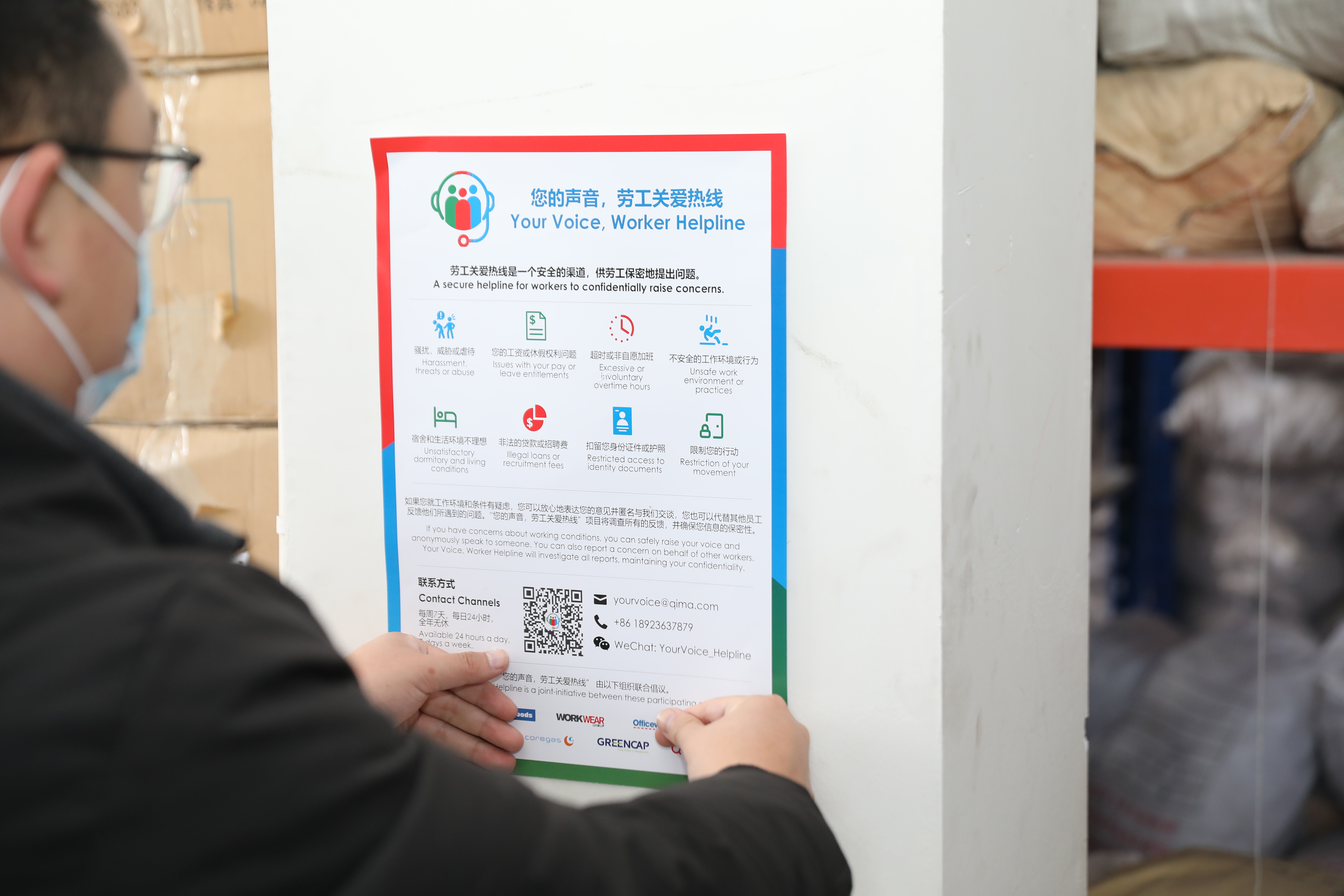 Wesfarmers is committed to driving a culture of integrity and accountability, where everyone, including workers in our global supply chains, can raise a concern and have their voices heard.
Ethical sourcing and human rights have been key areas of focus for the Wesfarmers Group for almost a decade. Our approach to respecting human rights through the ethical procurement of goods and services is based on the United National Guiding Principles (UNGPs). In accordance with those principles, we aim to have a grievance mechanism available for workers in our global supply chains to raise concerns.
In 2021 Bunnings, Blackwoods, Officeworks, and Workwear Group launched the 'Your Voice, Worker Helpline'. Consistent with the UNGPs' guidelines for operational-level grievance mechanisms, the 'Your Voice, Worker Helpline' was developed in consultation with stakeholders, with a focus on open dialogue to support the remediation of any reported grievances.
The 'Your Voice, Worker Helpline' complements ethical sourcing due diligence programs, by validating audit and risk assessment results and providing visibility of issues beyond the regular audit cadence. Specifically, the 'Your Voice, Worker Helpline' supports the provision of remedy for workers, enables problems to be addressed promptly before they escalate, and assists our audit program to identify ethical sourcing trends over time.
To date, 'Your Voice, Worker Helpline' has been implemented in more than 190 third-party manufacturing sites in China, Taiwan, Indonesia and Vietnam covering more than 43,000 supply chain workers.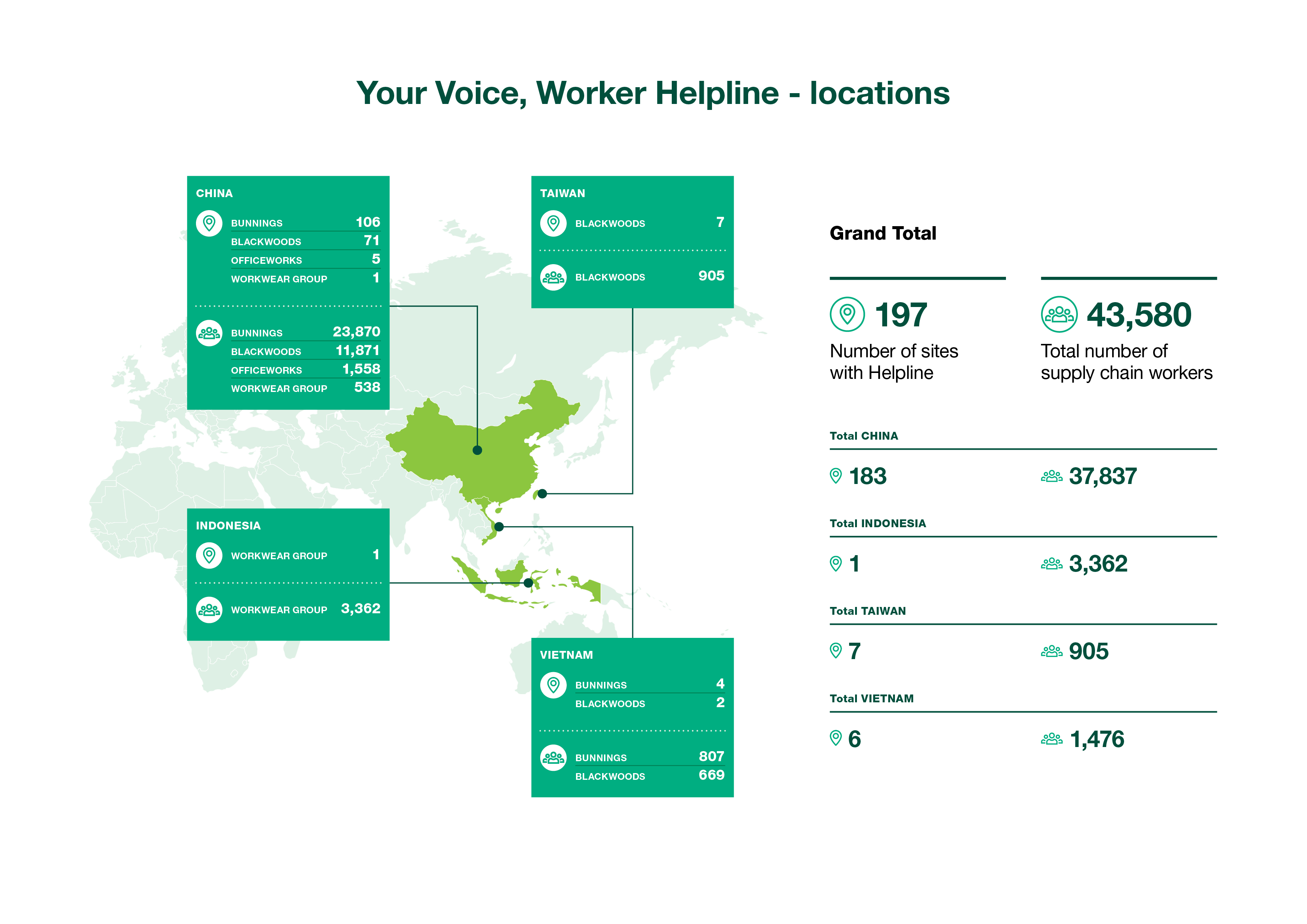 Your Voice, Worker Helpline Alignment to the UNGPs Effectiveness Criteria for Operational Grievance Mechanisms.
Legitimate - enabling trust from the stakeholders for whose use they are intended and being accountable for the fair conduct of the process
The 'Your Voice, Worker Helpline' is managed by an independent supply chain consultancy QIMA, with dedicated in-country teams available 24 hours a day, 7 days a week to answer workers' reports in their native language. The Helpline allows workers to confidentially raise concerns about their working conditions via phone call, email, or messaging services including WhatsApp or WeChat.
Accessible
- being known to all affected stakeholder groups, providing assistance where relevant.
At implementation stage, onsite and online training is held for the manufacturing sites. Promotional materials including posters and pocket cards are also provided so the mechanism is shared with intended users. 'Your Voice, Worker Helpline' posters are located inside participating manufacturing sites, in communal areas such as toilet cubicles, canteens and dormitories.
The posters are multi-lingual, with pictorial descriptions of the types of reports workers can lodge, ensuring the service is accessible to workers with foundational or low literacy rates, and migrant workers who may not speak the local language.
Predictable -
clear and known procedure with an indicative time frame, clarity on types of processes and outcomes they offer
Communication and awareness-raising is a priority when first engaging suppliers and manufacturing sites is to ensure 'Your Voice, Worker Helpline' is known and understood by workers, and supported by all parties in the supply chain.

For suppliers and factory management teams, training and resources are provided to explain the service and detail the subsequent investigation process once a report is lodged.

During on-site induction, workers are provided training about the 'Your Voice, Worker Helpline' in small groups, and provided examples of what types of issues can be raised via the Helpline and how complaints are handled, with a focus on confidentiality. To date, more than 5,600 factory workers from nine manufacturing sites in Bunnings' supply chain were engaged in on-site training.

All reports will be investigated with the aim of determining a resolution in the shortest possible timeframe. The investigation process strives to keep all parties regularly informed (in their local language) of the steps that are being taken to address their concerns.

The below diagram reflects Wesfarmers typical approach when responding to Your Voice, Worker Helpline reports. This process is generally applicable and Wesfarmers businesses may adopt a different approach in particular circumstances if appropriate.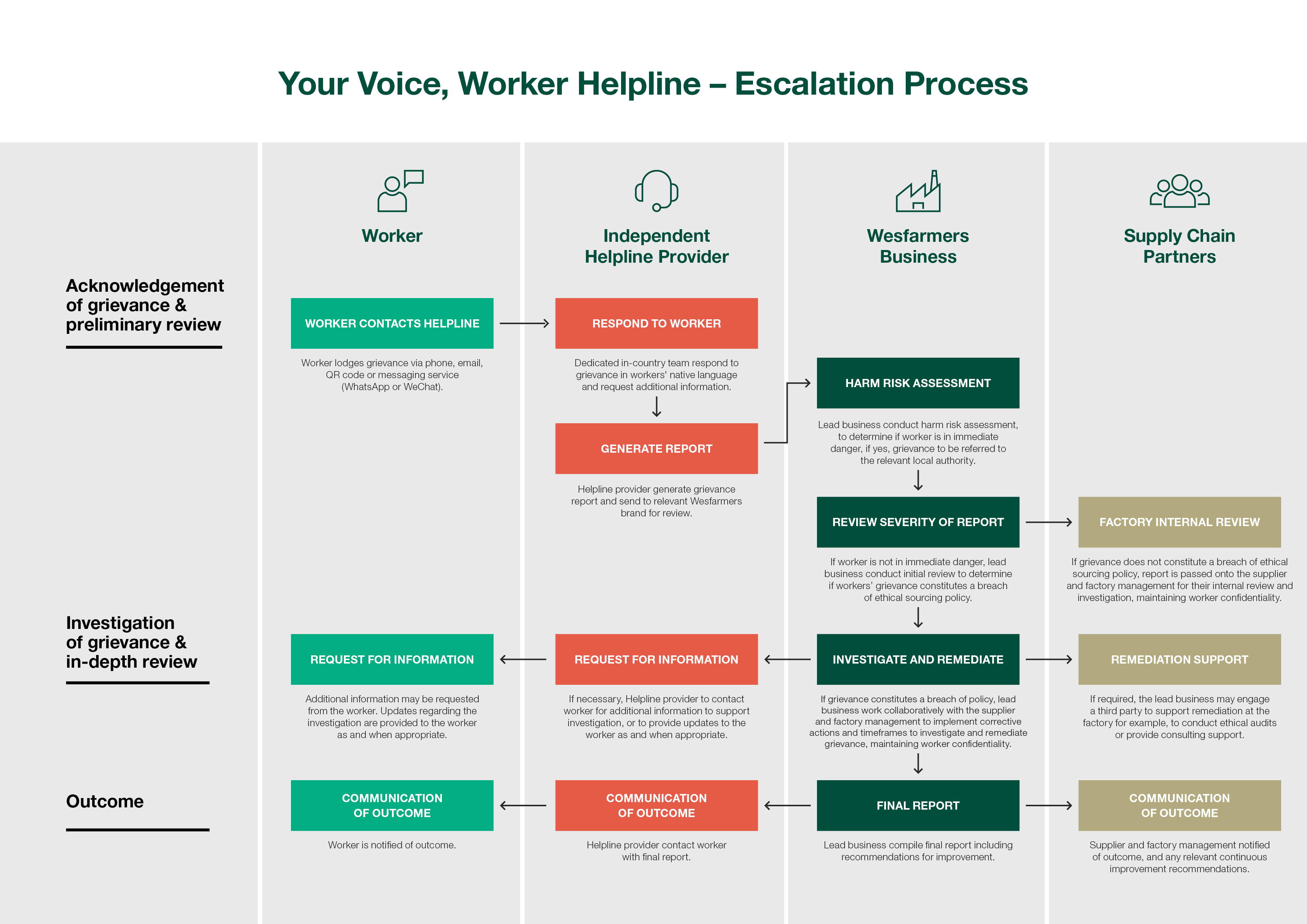 Equitable - seeking to ensure that aggrieved parties have reasonable access to sources of information, advice and expertise
The 'Your Voice, Worker Helpline' is managed independently, and delivered by a team of in-country ethical audit specialists who are able to connect with workers in the workers' native language, and confidentially manage the workers' reports.
Transparent - keeping parties informed about progress and providing information on the mechanism's performance
'Your Voice Worker Helpline' is designed to safeguard the rights and wellbeing of any person who has raised a concern.

Since December 2021, 12 workers have contacted the 'Your Voice, Worker Helpline' consisting of five confirmed grievance reports and seven enquiries about their working rights but no official grievance report was lodged. Of the five grievance reports lodged in the period all have been resolved and no investigations are ongoing.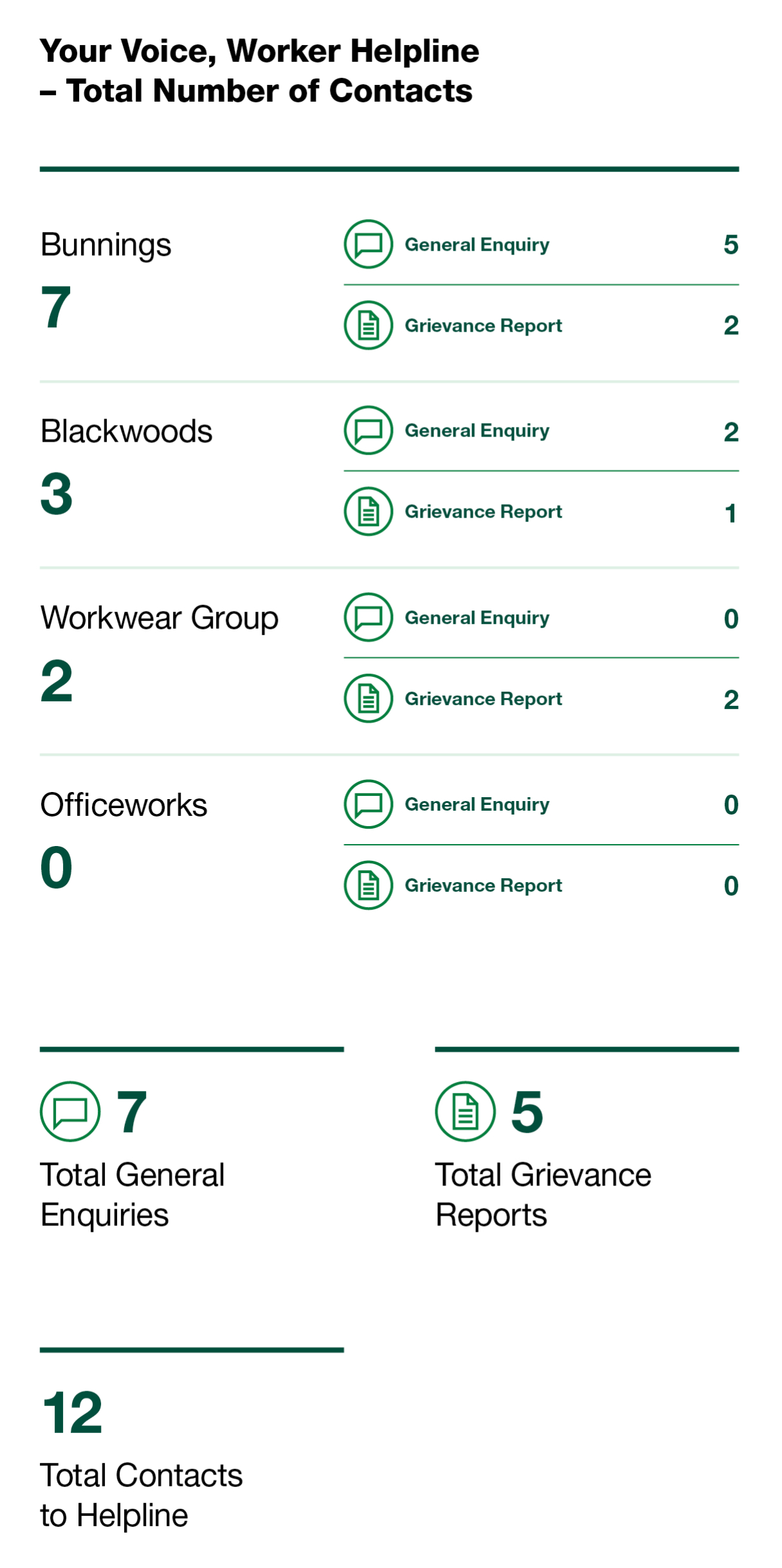 Rights-compatible - outcomes and remedies accord with internationally recognized human rights
The 'Your Voice, Worker Helpline' is aligned to the Group's policies on ethical sourcing and human rights, which are based on International Labour Organisation (ILO) Conventions.
Bunnings, Blackwoods, Officeworks, and Workwear Group are committed to promoting the 'Your Voice, Worker Helpline' to individuals and teams who may confidentially raise complaints or concerns. When a report is received by the 'Your Voice, Worker Helpline', we will act as quickly as practicable to remedy any adverse impacts on workers, individuals or communities and we will engage directly with affected stakeholders.
A source of continuous learning - identifying lessons for improving the mechanism and preventing future harms
To measure the efficacy of the 'Your Voice, Worker Helpline', Bunnings deployed an anti-retaliation call-back service to selected manufacturing sites. The voluntary worker call-back service is an additional module to an independent ethical audit, whereby auditors call workers after the audit to determine their awareness, trust, and any feedback about the Helpline. The anti-retaliation call-back proactively provides workers with an opportunity to offer additional confidential feedback to the auditor in private, outside of normal working hours.
With complex and dynamic supply chains spanning many countries, we acknowledge there are different socio-cultural barriers that may prevent vulnerable workers from raising concerns, either directly with their employer (our supplier) or via the 'Your Voice, Worker Helpline'. Bunnings, Blackwoods, Officeworks, and Workwear Group meet frequently to share learnings and collaborate on improvement initiatives; a key focus for the coming year is to strengthen and expand the 'Your Voice, Worker Helpline' to additional regions.