Industrial and Safety - Health, safety and wellbeing
Health, safety and wellbeing continue to be top of mind at Industrial and Safety, with each business unit progressing initiatives to mitigate fatal risk, prevent injuries, and support team member physical and psychological wellbeing.
With the ongoing challenges of adapting to COVID-19 and the associated impacts on team members, the division invested in strengthening its mental health and wellbeing programs. In addition to training 30 mental health first aiders, Blackwoods grew its Health and Happiness community, Coregas improved its safety interaction program, Greencap delivered psychological health and wellbeing workshops, NZ Safety Blackwoods launched its FeelSAFE program with psychological, physical and financial support for team members, and Workwear Group prepared mental health leader training for launch in 2023. These initiatives are tracking well, with positive engagement and feedback from team members. The division's focus on mental health and wellbeing programs will be maintained in the coming years.
The division's total recordable injury frequency rate (TRIFR) continued to project downwards, reaching 3.5 - a 19 per cent decrease from the previous year. This is in part due to the focus on early intervention and 'first aid first' approach to minor sprain and strain injuries.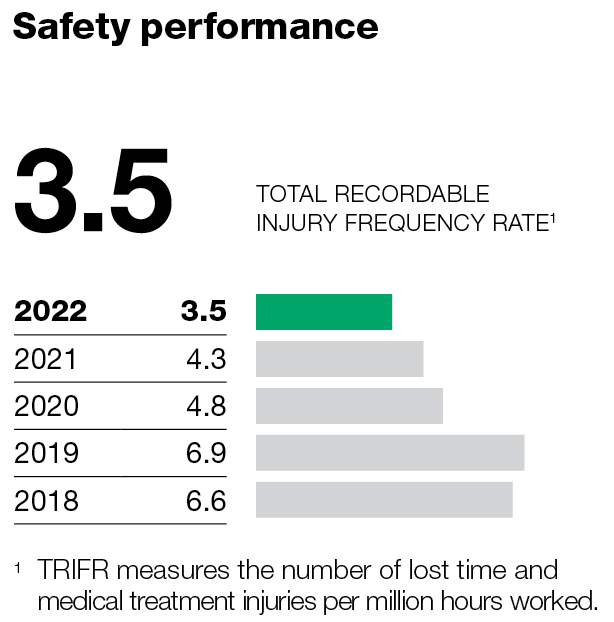 GRI 103-1, GRI 103-2, GRI 103-3, GRI 403-1, GRI 403-2, GRI 403-3, GRI 403-4, GRI 403-5, GRI 403-6, GRI 403-7