Officeworks - Reducing operational waste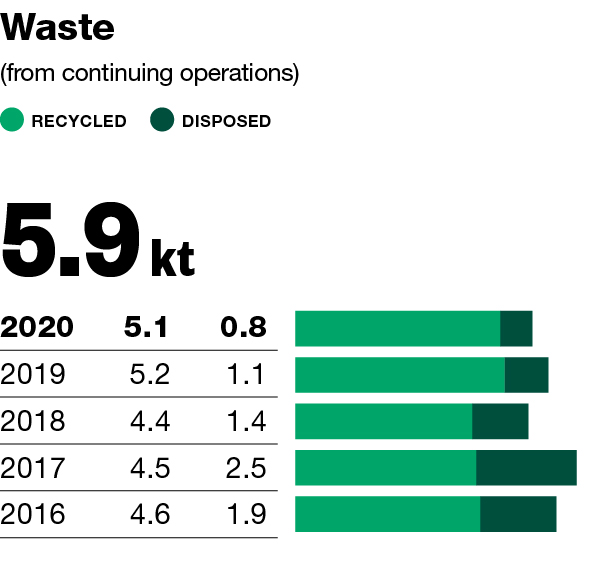 Embedding a culture of waste avoidance and resource recovery reduces environmental impacts from waste disposal and makes better use of the resources available. This also reduces operating expenses associated with waste management.

During the 2020 financial year, Officeworks continued to make progress with total waste generation down 7 per cent and waste sent to landfill down 26 per cent on the prior financial year. The inclusion of non-financial KPIs into store team's balanced scorecards, such as store recycling rates, contributed to greater accountability that resulted in 86 per cent of all waste recycled during the 2020 financial year.

Reducing waste sent to landfill was achieved by taking a strategic approach to waste management that is informed through waste analysis and monitored by regular performance reporting. Initiatives to address problematic waste streams during the year included implementing a polystyrene recycling service, launching a trial to repair and repurpose faulty or damaged furniture and working with suppliers to move to reusable transit pallets instead of single-use pallets.

While it is the individual actions of all team members that contribute to effective waste management, Officeworks acknowledges behaviour change is the most challenging aspect. To address this, Officeworks continued its focus to make recycling easy by implementing educational signage, optimising recycling service schedules and sending team members from 10 stores to a dedicated waste and recycling workshop.

As Officeworks continues to work towards becoming a zero-waste business, the focus next year will be to embed a winning formula for best practice waste management. This formula is best articulated as the Four Steps to Less approach, which empowers team members to become zero-waste champions by embracing the right values of reduce, repair, reuse and recycle, followed by having the right bins, in the right place, which are serviced at the right time.