Reducing our carbon emissions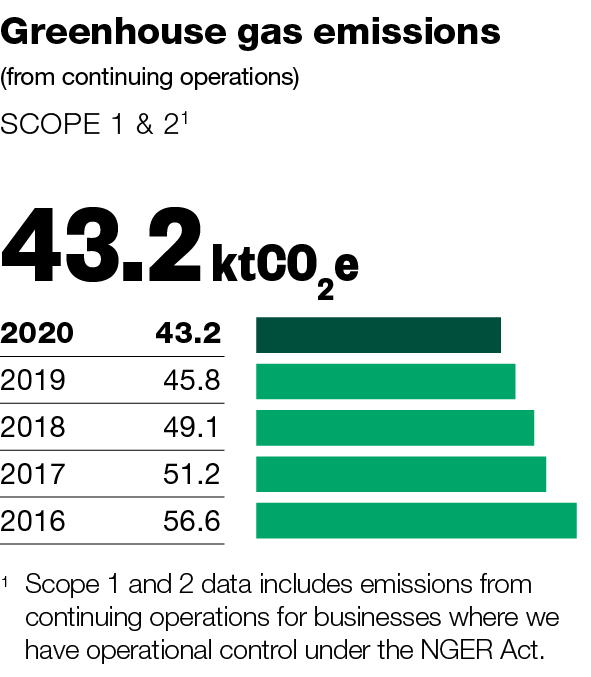 Since the end of the 2020 financial year, Officeworks accelerated its plans to reduce emissions, targeting net zero Scope 1 and 2 emissions by 2030. Officeworks also has a target to reduce carbon emissions by 25 per cent by 2025, on 2018 financial year levels. During the period, Officeworks' progress continued, reducing emissions by six per cent on the prior year, which resulted in a 12 per cent reduction on 2018 financial year levels. These reductions have primarily been achieved through energy efficiency initiatives that have the added benefit of reducing electricity costs or mitigating price increases.
Historically, Officeworks' approach to reducing carbon emissions has been achieved by reducing energy consumption in the first instance. This includes energy efficiency initiatives such as the installation of LED lighting and building energy management systems that optimise and regulate energy use. During the 2020 financial year, as this phase reached maturity, Officeworks initiated the next phase of its carbon emissions reduction strategy, which focuses on increasing the use of renewable energy. This will see the installation of on-site solar generation at several sites, with the first 10 stores expected to be completed by December 2020. The implementation of on-site solar forms a key part of Officeworks' approach to reducing emissions.
In addition to reducing emissions within its direct control, Officeworks engaged a consultant to provide a detailed analysis of the emissions generated throughout its supply chain during the financial year, which will be used to identify other opportunities.
The devasting bushfires experienced across eastern Australia during the summer of 2019–2020 served as a reminder of the impacts caused by a changing climate, which includes extended and more severe bushfire seasons. As part of the Wesfarmers Climate Change Policy, Officeworks undertakes scenario analysis to help identify physical and transitional risks and opportunities caused by climate change and associated mitigation strategies.
Officeworks is committed to taking meaningful climate action, which includes achieving net-zero direct carbon emissions by 2030 to limit the worst impacts of climate change.