Industrial and Safety - Ethical Sourcing and human rights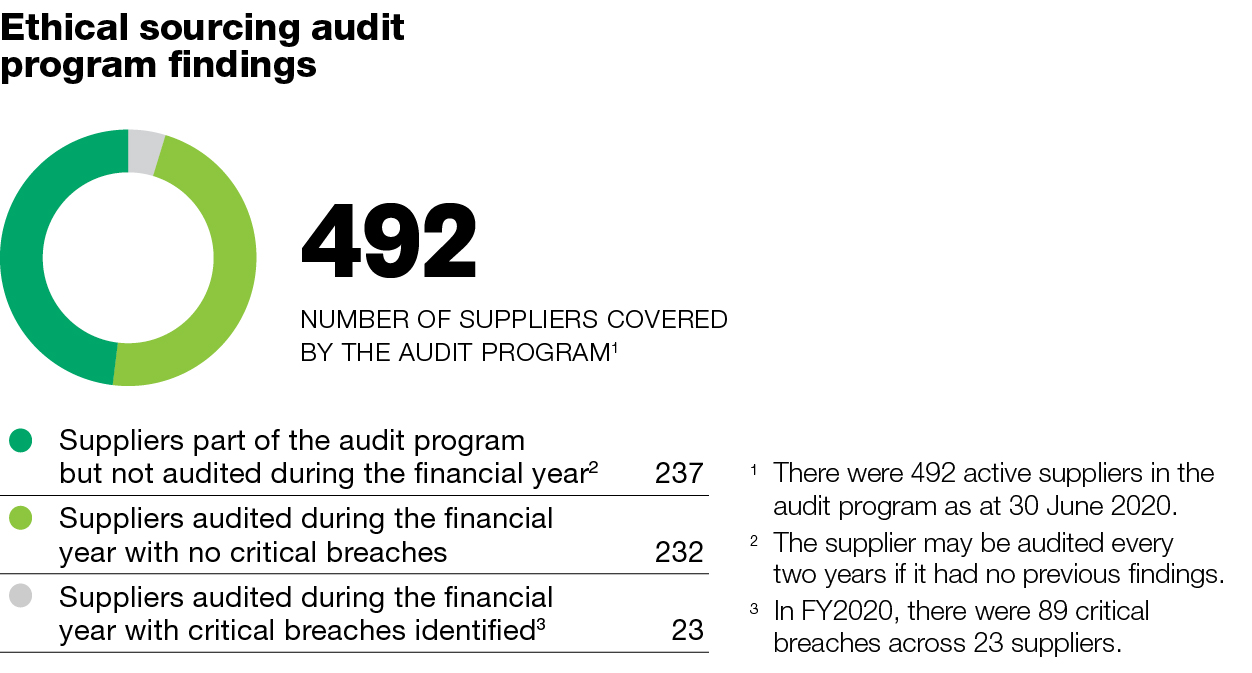 The Industrial and Safety businesses maintain strong and respectful relationships with our suppliers. We strive to source products in a responsible manner.
Each business maintains its own risk-based ethical sourcing strategy. The risk-based approach allows for diversity within the Industrial and Safety division and for each business unit to focus on what is most critical for them. The risk assessment process that profiles suppliers is based on a number of inherent risks, including country, product type and manufacturing process. Under the own-brand audit program, the top three geographies were China, Bangladesh and Indonesia. The remediation activities undertaken with factories were predominantly focused on improvements to health and safety matters, wages and working hours.
Industrial and Safety businesses recognise there are modern slavery risks beyond own-brand suppliers. As the program evolves and each business unit undertakes more detailed risk assessments on national/recognised brands, goods not for resale and service providers, a risk-based approach will continue. Focus areas will extend towards labour hire providers and outsourcing activities such as embroidery services, cleaning and transport service providers.

Blackwoods made significant progress re-engaging existing high-risk suppliers to the Sedex Members Ethical Trade Audit's (SMETA) four pillars audit framework. Suppliers to Blackwoods that are classified as high risk and make up more than 90 per cent of its total procurement spend are managed under the framework and internal re-audit program. The 2021 financial year will see the remaining suppliers reviewed and rationalised in line with Blackwood's strategic sourcing and brand strategy. NZ Safety Blackwoods has identified a potential risk in this area and will recruit a dedicated resource to ensure high-risk suppliers are being re-engaged as per the ethical sourcing framework and support the overarching governance of quality and compliance in the next financial year.

Blackwoods, Bullivants and NZ Safety Blackwoods will continue to re-engage the remaining existing suppliers as a priority to ensure factories are onboarded via Sedex methodology. The Ethical Sourcing and Human Rights strategy will be reviewed early in the 2021 financial year and will then establish the strategy for the next three to five years. The natural evolution of the program will mean data analytics can be leveraged to drive improvement initiatives and expand further into the goods not for resale and service provider categories.

Workwear Group has re-engaged existing suppliers to the Sedex framework. The two remaining suppliers to be engaged into the audit framework will be completed in early financial year 2021. As part of Workwear Group's commitment to educating suppliers and bringing them on the ethical and social compliance journey, a series of awareness sessions were conducted with suppliers across China, Fiji, Bangladesh and Indonesia. This was well received by all suppliers further cementing the supplier partnerships and capturing 97 per cent of offshore suppliers and in-country staff. To improve accountability and responsibility, Workwear Group appointed Ethical Sourcing Champions in Australia, New Zealand and within its United Kingdom-based business, Incorporatewear.

Greencap has all branded goods not for resale suppliers onboarded via the Sedex framework. Coregas has developed a web portal to provide suppliers with access to policies, general purchase conditions and links to all purchase orders completed for Coregas, MigoMag and Blacksmith Jacks.

A divisional catalogue was also developed, listing approved suppliers for branded goods not for resale. All Australian businesses completed a human rights risk gap analysis of external cleaning service providers, aligning contract, statement of work and due diligence processes.

All Wesfarmers Industrial and Safety business units in Australia completed a human rights risk gap analysis of external cleaning service providers, which enabled an alignment of a centralised contract, statement of work and diligence process. This approach has also expanded to NZ Safety Blackwoods, which will implement a New Zealand-specific legislative approach in the 2021 financial year.
The impact of the COVID-19 pandemic has meant business units had to be agile and adapt quickly to ensure risks were adequately managed. Given the greater demand for supply chain transparency, no changes to the ethical sourcing program were considered during the pandemic and new supplier onboarding was in line with the current process. In-country legislative changes and COVID-19 specific allowances led Blackwoods to engage with Sedex and conduct internal training to support sourcing teams in managing production start-ups and general social compliance conversations. Workwear Group was engaging suppliers regularly to ensure open communication on supply and ethical sourcing principals were at the forefront. Workwear Group and Blackwoods recognised there would be delays to audits and due consideration was given with respect to re-audit programs. Workwear Group saw a greater demand for local manufacturing during the period, in particular, to support local government and emergency services.