Officeworks - Connecting with our communities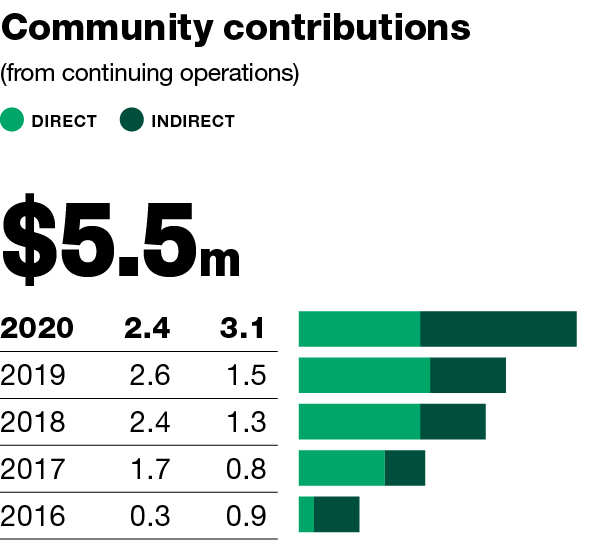 Officeworks is committed to increasing connections with communities at a local, regional and national level and being part of where our customers and team members live and work. During times of adversity, customers and team members have shown that the best outcomes can be achieved by working together to create meaningful relationships and provide support to those who need it most.

During the 2020 financial year, the Officeworks business, along with its team members and customers, contributed a record of $5.5 million directly and indirectly to local community groups and national partners. By continuing to build a closer connection with national causes, Officeworks team members and customers contributed $2.3 million through appeals that provided 2,290 students with a Learning for Life scholarship from The Smith Family. Officeworks also provided 1,500 literacy packs and supported 3,780 Indigenous students through the Australian Literacy & Numeracy Foundation.
The 2020 financial year was a particularly challenging time for many people and organisations around Australia. During the devastating bushfires and COVID-19, Officeworks was challenged to adapt the ways it supported communities, including the way fundraising appeals were executed. By responding to the issues that matter most to local communities in a timely and meaningful way, Officeworks team members and customers contributed over $330,000 towards bushfire relief to support students, schools and communities. In addition, over 1,000 small local businesses were provided signage printed by Officeworks Print, Copy & Create centres to enable them to trade safely throughout COVID-19.

In the year ahead, when the community will continue to need our support more than ever, Officeworks will focus on embedding localised engagement initiatives to connect with the communities where its team live and work, while continuing to grow the support of national partnerships.