Industrial and Safety - Safety and wellbeing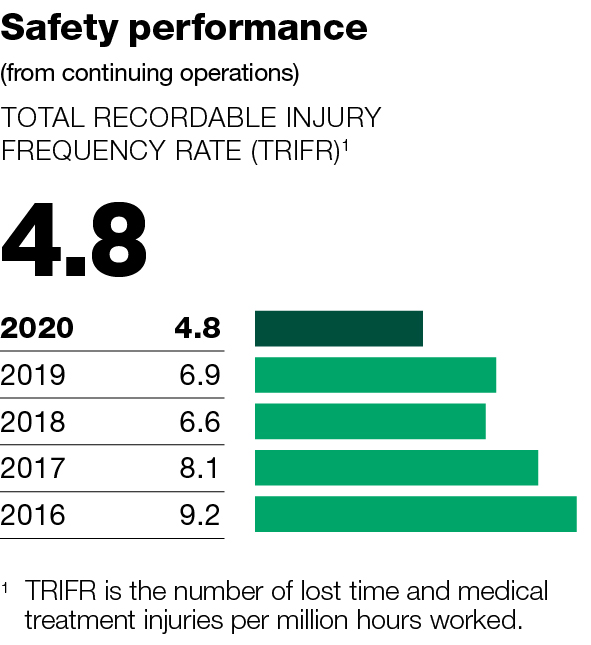 We maintain a relentless focus on providing safe workplaces.
Wesfarmers Industrial and Safety continued to drive initiatives to mitigate fatal risk, prevent injuries, support operational excellence and ensure team members' physical and psychological wellbeing.
The 2020 financial year Total Recordable Injury Frequency Rate (TRIFR) for Industrial and Safety of 4.8 was a 30 per cent decrease from last year's rate of 6.9.

All business units implemented initiatives to keep team members healthy and safe. The critical risk review program progressed this year and included developing bowtie analyses, performance standards and verification checklists. This program will continue into the 2021 financial year. To better understand psychological health needs, a psychosocial climate survey pilot was initiated in Blackwoods New South Wales. Survey results have been shared with participants and a prioritised action plan has been implemented. Workwear Group also completed a psychological harm assessment and a gap analysis to assist with benchmarking and future program development. Coregas rolled out phase two of its Safety Refresh (an expansion of its current Safety Interaction program) and continued to implement site operational safety review recommendations. Greencap developed a set of lifesaving rules in consultation with its mobile workforce.

Additional operational improvement activities were implemented to mitigate and manage key risks, including LoadSAFE, TaskSAFE, LiftSAFE and StoreSAFE. All business units delivered a flu vaccination program and implemented 10,000 steps challenge programs to promote team members' physical wellbeing. The Confidential Employee Assistance Program, available to all team members and their families, was promoted throughout the year with a healthy eight per cent average usage rate.

Wesfarmers Industrial and Safety businesses will continue to prioritise the safety and wellbeing of its team members next year, as an ongoing priority.