Wesfarmers becomes a publicly listed company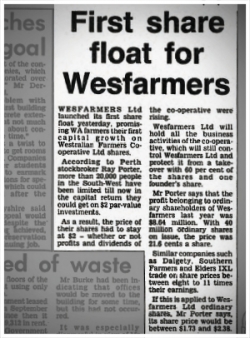 By the late 1970s, Wesfarmers was outgrowing its co-operative roots. A restructure was required to pass its accumulated wealth to members and ensure it did not fall prey to the corporate raiders that were beginning to flourish.
When it listed on the Australian Associated Stock Exchanges on 15 November 1984, Wesfarmers employed a unique founder's share which guaranteed the co-op's farmer members retained control. On listing it had a market capitalisation of $80 million.
The Co-operative retained 60 per cent of the ordinary shares and the rest were distributed to its members. By 2001, further restructures would see Wesfarmers entirely farewell its co-operative legacy to become a freely-traded publicly listed company with open ownership.