Wesfarmers Arts helps purchase new work for the nation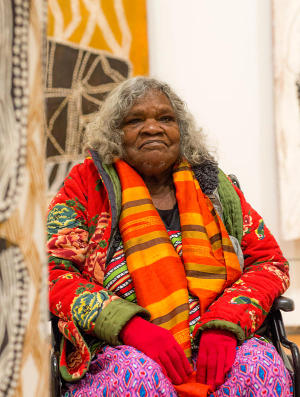 Defying Empire: 3rd National Indigenous Triennial, brings together contemporary art by thirty Aboriginal and Torres Strait Islander artists at the National Gallery of Australia to mark the 50th anniversary of the 1967 referendum granting Indigenous peoples the right to be counted as Australian. As Presenting Partner of this landmark Australian exhibition, Wesfarmers Arts is helping the National Gallery acquire three beautiful works of art produced for the exhibition by acclaimed Yolgnu artist Nonggirrnga Marawili from Yirrkala in the Northern Territory.
The artist says "I paint water designs. The water. As it crashes onto the rocks at high tide. Sending the spray into the sky. You know what I mean. That's what I do. And also those things on the rocks that I paint as dots are called dungunanin, the barnacles that dress up the rocks. You may think this is a sacred painting. But the paintings I do are not sacred. I can't steal my father's painting. I just do my own design from the outside. Water. Rock. Rocks that stand strong. And the waves that run and crash upon the rocks. The sea spray. This is the painting I do.
You may spy on me and think that I am painting sacred things. This would be a lie."
Congratulations Nonggirna Marawili and the National Gallery of Australia. See Defying Empire at the National Gallery of Australia in Canberra from 26 May to 10 September 2017.