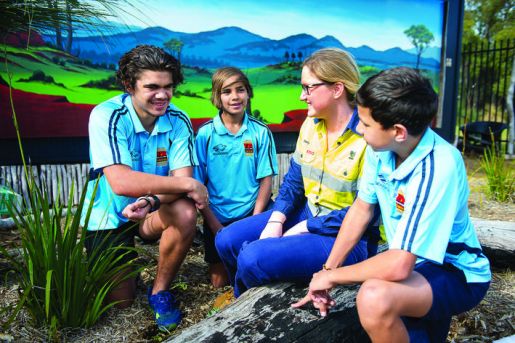 WesCEF continues partnership with Clontarf
Wesfarmers Chemicals, Energy & Fertilisers (WesCEF) has committed to another three years with long-term partner, the Clontarf Foundation, primarily supporting the provision of student places at the Kwinana-based Gilmore Clontarf Academy.
WesCEF will also continue to support Clontarf by participating in the annual Clontarf Foundation Employment Forum, providing opportunities for Clontarf students to tour its workplaces and also work experience and school-based traineeship opportunities where possible.
WesCEF is committed to enhancing relationships with Aboriginal people from the local community by providing capacity-building, development and employment opportunities.
Clontarf partners with organisations that have a shared belief in the value of long-term investment in capacity-building for young Aboriginal men – investments that result in benefits for both individual students as well as the local and broader community.
WesCEF has been a supporter of Clontarf since 2005.
WesCEF creates positive futures through SMYL

Through its partnership with South Metro Youth Link (SMYL) Community Services, a not-for-profit service provider supporting people and communities make positive changes for their future, WesCEF is supporting Aboriginal youth in the Kwinana/Rockingham area to build future capability and workplace experience through school-based traineeships.
Since 2014, three Aboriginal senior high school students have participated in school-based traineeships, getting on-the-job experience at WesCEF's CSBP Kwinana business.
Two students who are completing their Certificate II in Engineering spend one day of the school week at CSBP's Kwinana manufacturing plant, while another student who is completing her Certificate II in Business Administration spends one day of the school week at CSBP's Kwinana Reception learning valuable on-the-job skills.
WesCEF and SMYL joined forces in 2014 as part of WesCEF's ongoing commitment to Aboriginal engagement, creating development and employment opportunities for Aboriginal people, and for the long-term benefit of the Aboriginal community.