Kmart plans for the future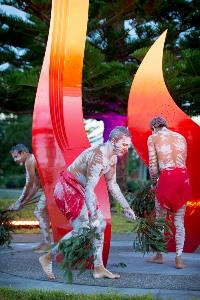 Kmart has a strong commitment to supporting diversity across its stores; for customers, team members, suppliers and community. The 2017 Kmart Aboriginal and Torres Strait Islander Action Plan supports this through three elements of building relationships, showing respect and creating opportunities.
The opening of a new store at Port Macquarie, New South Wales in March 2017 was an opportunity for Kmart to showcase the plan in action by demonstrating respect and creating opportunities. Kmart employed 16 Indigenous team members, equating to 7.84 per cent of the overall store team and reflecting the community of Port Macquarie.
At the store opening, an official Welcome to Country and smoking ceremony outside the store was led by local Elder Uncle Bill. Kmart also commissioned a public art piece which was unveiled in front of the store. The sculpture, titled "Aura of the campfire" was created by Indigenous artist Brian Robinson of the Kala Lagaw Ya and Wuthathi language groups of the Torres Strait. The three flames of the sculpture reflect the dreaming story of the Three Brothers Mountains. Uncle Bill performed a reading of the Three Brothers story, followed by five Birpai dancers accompanied on the digeridoo.
Across its business, Kmart has increased employment of Indigenous team members to 419, representing 1.33 per cent of its workforce. Kmart's goal is three per cent by 2020.