Bunnings Cairns Community Engagement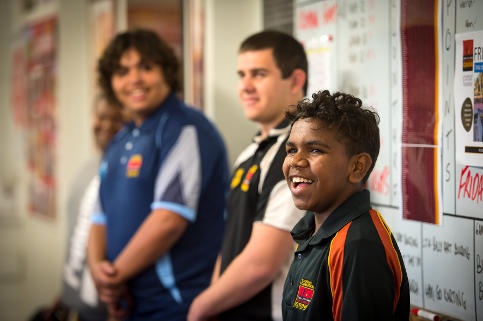 This year, Bunnings participated in 1,500 community activities that benefitted Aboriginal and Torres Strait Islander organisations and charities across Australia. This reflects Bunnings' commitment to meaningful and active participation in the community, where ongoing support is provided to a wide range of local community groups.
In the past 12 months, the team from Bunnings Cairns Central have been involved in more than 40 local activities with Indigenous organisations. A recent example of success included local engagements with the Clontarf Foundation - an organisation that exists to improve the education, discipline, life skills, self-esteem and employment prospects of young Aboriginal and Torres Strait Islander men.
Bunnings Cairns has supported Clontarf students by participating in events to help raise awareness around domestic violence, running DIY workshops to restore garden hubs, donating and installing kitchens in the Clontarf Academy rooms and providing equipment to support community projects.
Bunnings Cairns Central has also implemented a program assisting high school students with work experience that contributes to the completion of the students Queensland Certificate of Education. Cairns Central Warehouse Manager and Cairns local for 35 years, Brett Hannam, believes local employers have a bigger role to play when it comes to youth unemployment.
"We have to understand that if we can help a student complete Grade 12 by providing on-the-job experience, then we are adding value to the community," he said.
Bunnings will continue to focus on what it does best, and that is supporting their local communities where this type of meaningful contribution makes a positive difference.