Coles helps Indigenous suppliers grow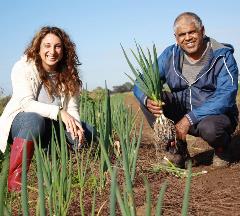 Coles is now directly sourcing spring onions and a range of Asian greens from Indigenous growers in South Australia.
Nunga Produce has supplied vegetables to Coles for more than 12 months as part of Coles' first contract with an Indigenous horticulture company in South Australia.
Established in 2011, Nunga Produce is owned by businesswoman Juliet Tripodi and Indigenous grower Ron Newchurch, who have more than 40 years' combined experience in Australia's agriculture industry.
Ron and Juliet grow spring onions and Asian greens in the Adelaide Plains, and also source produce from three Indigenous farms across South Australia.
As an aggregator for micro producers, Nunga Produce is committed to supporting Indigenous growers to become self-sustaining enterprises.
It encourages private Indigenous farmers to grow products for the commercial market. Nunga Produce then markets the collective product of the growers.
Juliet said Nunga Produce's supply contract with Coles enables the business to continue its guidance and support of the Indigenous growers who supply into the business.
"Our supply contract with Coles helps us to encourage and educate Indigenous farmers in South Australia to use their land for growing produce, as we can give them security of the sale," she said.
The collaborative arrangement between Coles and Nunga Produce has included multiple supplier visits, identification of growth opportunities for Nunga Produce in terms of varieties produced and supplied to Coles, assistance with food safety audits, connections with other manufacturers, and links to financial support options (including support from Coles Indigenous Food Fund).