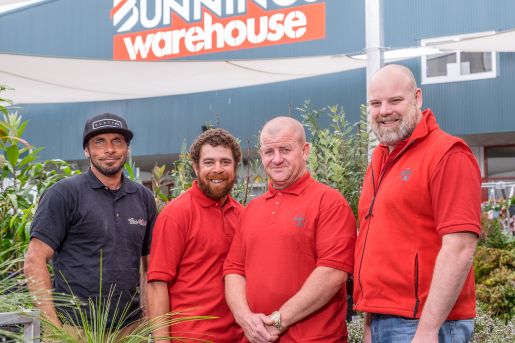 Matt Simms is a familiar face at Bunnings - and not just because he shops there.
As a support worker at The Glen Drug and Alcohol Rehabilitation Centre, Matt works closely with the local Bunnings manager, Michael Staines. Matt assists clients at The Glen complete work experience placements at Bunnings as part of The Glen's program.
The Glen, based on the Central Coast NSW, provides holistic, culturally-appropriate treatment to help empower men suffering substance abuse problems and is an industry-leader in its field.
Bunnings offer clients based at The Glen a four-week work experience program, where experienced team members mentor and support clients in a role suited to their skill set. Several of these placements have led to permanent employment.
Both Jeremy Bolt and Sonny Perry have recently completed work experience at Bunnings and are now permanent team members.
Bunnings also recently donated two 'Smart Space' buildings – portable homes which provide an additional 12 beds – to The Glen program. Bunnings team members will assist clients at The Glen with its fit out.
The relationship between Bunnings and The Glen is ongoing and is successful for all parties. Bunnings stores work closely with their own local communities to achieve sustainable outcomes across Australia.