Like everyone, Wesfarmers has been shocked and saddened by the devastating fires that have gripped our country for more than two months and with extreme intensity in recent weeks. To further support the bushfire relief and recovery effort, Wesfarmers will underwrite a minimum donation of $1.5 million from across the Group to a range of our charity partners and other organisations involved in the enormous rebuilding task ahead.
This is in addition to approximately $200,000 pledged in late 2019 by Wesfarmers divisions and the donation of critical products and in-kind support made so far on the ground in affected local communities by our teams at Bunnings, Kmart, Target, Officeworks, Blackwoods, Workwear Group and other businesses. More than $600,000 was also raised for GIVIT for bushfire and drought relief from the national Bunnings sausage sizzle held on 22 November, following the early terrible start to the bushfire season.
Since then our retail businesses have further harnessed the strength of their nationwide store networks, online channels, and millions of customers, to contribute to the huge fundraising efforts underway across the country.
On Friday 24 January, Bunnings held a nationwide sausage sizzle to raise funds for the Red Cross Disaster Relief and Recovery appeal, and also took customer donations in-store and online for the Red Cross. Raising over $850,000 for Australian communities impacted by bushfires, this included more than $100,000 of direct donations from team members which was matched by Bunnings. Kmart and Target launched appeals in all stores raising more than $800,000 for The Salvation Army and UnitingCare Australia, matching contributions made by customers. And Officeworks also held a national fundraising day on Friday 24 January raising over $300,000 to go to local schools and families in communities affected by the bushfires. Donations from customers and its team members were also matched by Officeworks.
Wesfarmers undertakes that a minimum of $1 million will be donated from the Group to match the customer contributions made through the Kmart, Target and Officeworks appeals, and the team member contributions made across our Group.
In addition, we pledge $500,000 to support the Business Council of Australia's new Community Rebuilding Initiative chaired by General Sir Peter Cosgrove AK, CVO, MC, which aims to co-ordinate support from the business community in times of tragedy, including employment for volunteers and those who lose work as a result of disasters, additional services for communities, reconstruction support and financial relief.
Our thoughts remain with everyone affected and we join others in saying a huge thank you to the firefighters, emergency services, volunteers, charities and our own team members for their extraordinary efforts to support the communities in need so far, and with the challenges ahead.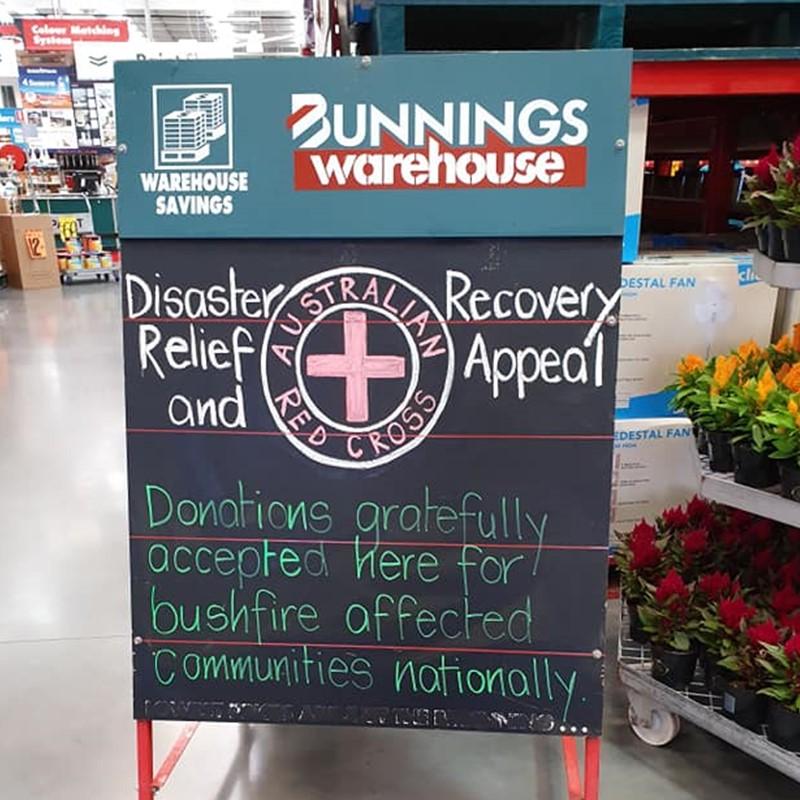 Here's some more information on the support being provided by our retail divisions:
Bunnings
From a Bunnings perspective, our stores have and always will be an integral part of each community in which they serve. Our local connections run deep with team living, working and raising their families within these communities.
In tragedies such as the one we are experiencing, Bunnings team members have stepped up, providing products, time and services to those in need, supporting emergency services and those who've lost homes, businesses and livelihoods. In addition, close to 100 of Bunnings' own team members have taken paid time away from work to fight fires as members of the CFA, CFS, RFS, SES and defence force reserves. Bunnings continues to provided unlimited paid support to these team members and families. Along with local donations well in excess of $100,000, Bunnings will hold a further sausage sizzle at all stores across Australia and New Zealand on January 24, with funds raised going to the Red Cross Disaster Relief and Recovery appeal. Bunnings is taking customer donations in-store and online for the Red Cross and will match any contributions made by our team members.
The Bunnings team deeply understands the role it plays in serving communities as a trusted partner in good and bad times and looks forward to continuing this unwavering support in meaningful and practical ways.
Kmart
Our heartfelt thoughts go out to all those impacted by the devastating effects of the bushfire crisis, including our community, team members and wildlife. We realise the recovery journey will be long and as a team of over 30,000 across Australia, together we are committed to stand by those impacted. To support those communities affected by the devastating bushfires we are working with The Salvation Army to continue to aid in the relief effort. https://www.kmart.com.au/kmartbushfirereliefappeal
Target
We realise the recovery journey will be long and as a team of over 11,000 across Australia together we are committed to stand by those impacted. We send our sincere thanks to the extraordinary efforts displayed by everyone coming together during this emergency so far. To support those communities affected by the devastating bushfires we are working with UnitingCare Australia to continue to aid the relief effort. https://www.target.com.au/targetbushfirereliefappeal


Catch.com.au
As a proud Aussie born and bred company it's heartbreaking to see our beautiful country suffering from such devastation. We at Catch feel the need to do our part. Catch will kickstart the appeal with a donation of $50,000 to the Australian Red Cross. To grow this amount, we're also building a tool that makes it easy for customers to assist with a contribution of their small change. This will be launched in the coming weeks. https://www.catch.com.au/stories/promo/catch-red-cross-bushfire-appeal?utm_medium=banner&utm_source=catch-website&utm_campaign=catch-bushfire-appeal
Officeworks
We know it's an incredibly challenging time for our team members and customers in parts of Australia that have been devastated by the bushfires. Making meaningful connections with and contributions to the communities where we live and work is something we're committed to as a business, so we're really proud of many of our store teams who have been quick to act and support those that needed it the most. Like so many, we have felt passionately about supporting communities impacted by the bushfires more broadly, so we're pleased to be able to do our bit nationally by hosting a fundraising day. https://www.officeworks.com.au/resources/pdfs/media-centre/Officeworks%20announces%20support%20of%20bushfire%20affected%20communities.pdf