8 May 2017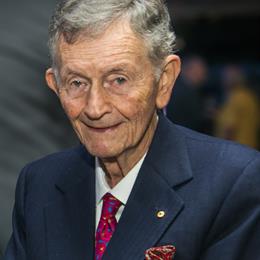 Vale John Bennison 3 July 1924 – 6 May 2017

Wesfarmers today paid tribute to one of the most respected and outstanding members of its extended family – John Bennison, General Manager, from 1974 to 1984, the decade which led to the company's public listing.

Mr Bennison is survived by his four children Jane, Sally, Simon and Kate. His wife of 68 years, Joyce, died in 2014.

Wesfarmers Managing Director Richard Goyder said Mr Bennison was a visionary leader who established the commercial foundation for the company which Wesfarmers had become.

"John's commercial skills, outstanding leadership and tenacity underpinned the transformation of Wesfarmers from a co-operative to a more broadly-based company with the financial and management capacity to grow," Mr Goyder said.

"He was widely regarded as being way ahead of the business environment of his time and has appropriately been credited as the architect of today's Wesfarmers."

A wartime bomber pilot in the Royal Australian Airforce, Mr Bennison joined Wesfarmers in 1954 as a budgetary control clerk and transferred two years later to the then pioneer Kleenheat Gas business. He became manager of Kleenheat in 1958, and soon after the head of the Industrial Division, also responsible for Gascoyne Trading and Farmers Stores.

He became General Manager of Wesfarmers in 1974, only the fourth Chief Executive in the co-operative's 59 year history. His tenure included the prolonged battle to acquire fertiliser and chemical manufacturer CSBP & Farmers Ltd – then three times Wesfarmers' size and the biggest corporate takeover in Australian history. He had identified CSBP as the ideal prospect to give Wesfarmers growth, breadth and cash flow and persisted through several years of internal and external resistance to complete a deal which elevated Wesfarmers into a much bigger corporate league.

Mr Bennison then led the long and arduous campaign to transform Wesfarmers from a co-operative to a publicly listed company. By his retirement on 15 June 1984, Wesfarmers' assets had increased more than five times and its net profit had risen 450 per cent.

Mr Goyder said Mr Bennison was a lifelong proponent of the importance of education and pushed for more skilled employees and graduates at Wesfarmers. This included sending his protégé and ultimate successor, Trevor Eastwood, on the Harvard Advanced Management Program, a pathway since repeated by many of Wesfarmers' executive leadership.

Mr Bennison was also behind the creation of the Wesfarmers Collection of Australian Art, now one of the most significant and valuable collections in Australia. Under his stewardship, Wesfarmers acquired a number of important historical Australian landscapes that would form the foundation of the collection, the first of which - a pastoral scene by Australian impressionist Elioth Gruner – was purchased in 1977.

"Wesfarmers sadly farewells one of our most influential and inspiring leaders and one of our most original and innovative thinkers," Mr Goyder said.