Wesfarmers Health - Waste, packaging and plastics
Wesfarmers Health and its businesses have a direct and indirect impact on the environment. These impacts relate to the physical locations where they operate, their supply chains, the way they source and package their products and the end use of the products they sell. Acknowledging these impacts, Wesfarmers Health is in the early stages of:
considering its impact on the environment, implementing environmental protections and assessing the role it can play in a circular economy

collating baseline data to enhance its sustainability performance and seek opportunities to reduce its environmental footprint across its operations and supply chains

aligning with Wesfarmers Group environment and climate policies.
Operational waste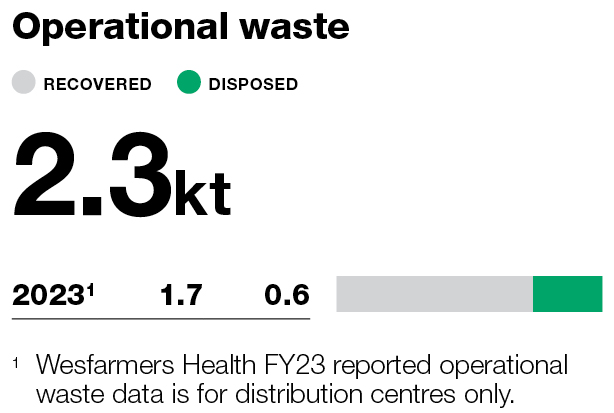 To aid in the transition towards a circular economy, a reduction in the amount of waste generated and sent to landfill through Wesfarmers Health operations is vital. The growth in plastics consumption plays a large part in waste disposal and poses a threat to the environment and biodiversity. Therefore, a focus on packaging and plastics will support waste reduction and diversion, with increased recycled and recyclable material in its supply chain.
In the 2023 financial year, Wesfarmers Health took steps to understand the volume and nature of its waste footprint generated across its distribution centres, corporate support offices and company-owned retail stores network. In the 2024 financial year, Wesfarmers Health will report on its operational waste across its company-owned network for the first time.

During the year, initiatives were undertaken by the division to reduce waste, including pallet recycling and exploring greater waste segregation practices at the Melbourne distribution centre. A reduction in plastic straps on totes (moving from double strapping to single strapping) was implemented across the distribution centre network to reduce plastic within the supply chain as well as the waste generated.

The Wesfarmers Health distribution and fulfilment centres are the biggest contributors of waste and emphasis has been placed on better waste management practices at these facilities. Some other initiatives include introducing cardboard totes and using recyclable labels on cartons.

Wesfarmers Health operational waste (disposed to landfill and recovered) was 2.3 kilotonnes with a recycling rate of 73.0 per cent for the 2023 financial year.

Take back program

Priceline continues to participate in a take back program that was initially launched by Maybelline in partnership with Terracycle in 2021. The program encourages customers to return their empty makeup containers, regardless of brand, to be deposited in dedicated collection units within Priceline stores and in return, they are rewarded with Sister Club points (for members). The collected makeup packaging is sent to Terracycle, where it is sorted, processed and converted into usable raw material that can be repurposed and diverted from landfill.

Packaging and plastics

As part of the Australian federal and state government targets, packaging made, used and sold within Australia is required to adhere to packaging targets, imposed by the National Environment Protection Measure (NEPM) and facilitated by the Australian Packaging Covenant Organisation (APCO). APCO has outlined four National Packaging Targets, which include:
100 per cent reusable, recyclable or compostable packaging

70 per cent of plastic packaging being recycled or composted

50 per cent of average recycled content included in packaging (revised from 30 per cent in 2020)

phase out of problematic and unnecessary single-use plastic packaging.
Wesfarmers Health has become a signatory to APCO. A review of all private-label brands has been initiated, which considers the 2025 National Packaging Targets. Wesfarmers Health will aim to reduce the amount of packaging materials within its supply chain by reviewing current packaging designs, considering options that have less packaging material, have higher recycled content, and are recyclable or compostable post-consumption.

Clear Skincare has begun the process of reviewing packaging on its products and will finalise new packaging designs in line with the APCO Sustainable Packaging Guidelines that move towards more reusable, recyclable and compostable packaging in the 2024 financial year.

A priority in the coming year will be to improve the management and reporting practices for waste streams and to quantify the impact of initiatives. In the future, Wesfarmers Health will consider the application of a packaging policy that supports the 2025 National Packaging Targets.