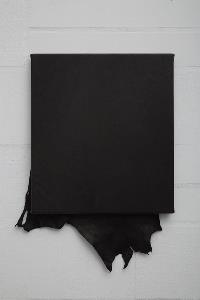 Gouache on giclee print, goatskin, dye, artek wool upholstery and steel
In 2010, Wesfarmers was able to assist young Western Australian artist Caitlin Yardley take up a post-graduate scholarship to London's prestigious Goldsmith University.
Now based in London, Caitlin has had numerous international residencies and exhibitions in Britain, Europe and continues an engagement with Australia through projects in collaboration with the Art Gallery of Western Australia and Perth Institute of Contemporary Art.
We are delighted to have been able to acquire for The Wesfarmers Collection some of Caitlin's recent work inspired by a residency she undertook at the Alvar Aalto Studio in Helsinki, Finland – the original studio of one of 20th century architecture and furniture design's most celebrated figures.
The starting point for Yardley's XYZ series was her discovery of a fragment of original Alvar Aalto zebra design wool upholstery during her time in Finland. Sections from this piece of fabric now form part of this work.
The zebra design fabric was originally produced by Aalto in Belgium in the 1930s and used primarily on his iconic Armchair 400. It became one of the most desirable designs for modern furniture in the first quarter of the 20th century and gave rise to an enduring trend in organic, animal-inspired textile design that continues today.
Yardley is interested in Aalto's embrace of strikingly 'visceral and animal' designs and textures as a way to counterbalance the clean lines and rigid forms of his architecture and furniture.
This led her to explore his visual legacy through the ongoing XYZ series of drawings, screen prints on perspex, works with goat skin pelts and the zebra fabric itself.