Telethon Kids ear health researcher takes out top science prize at 40Under40 Awards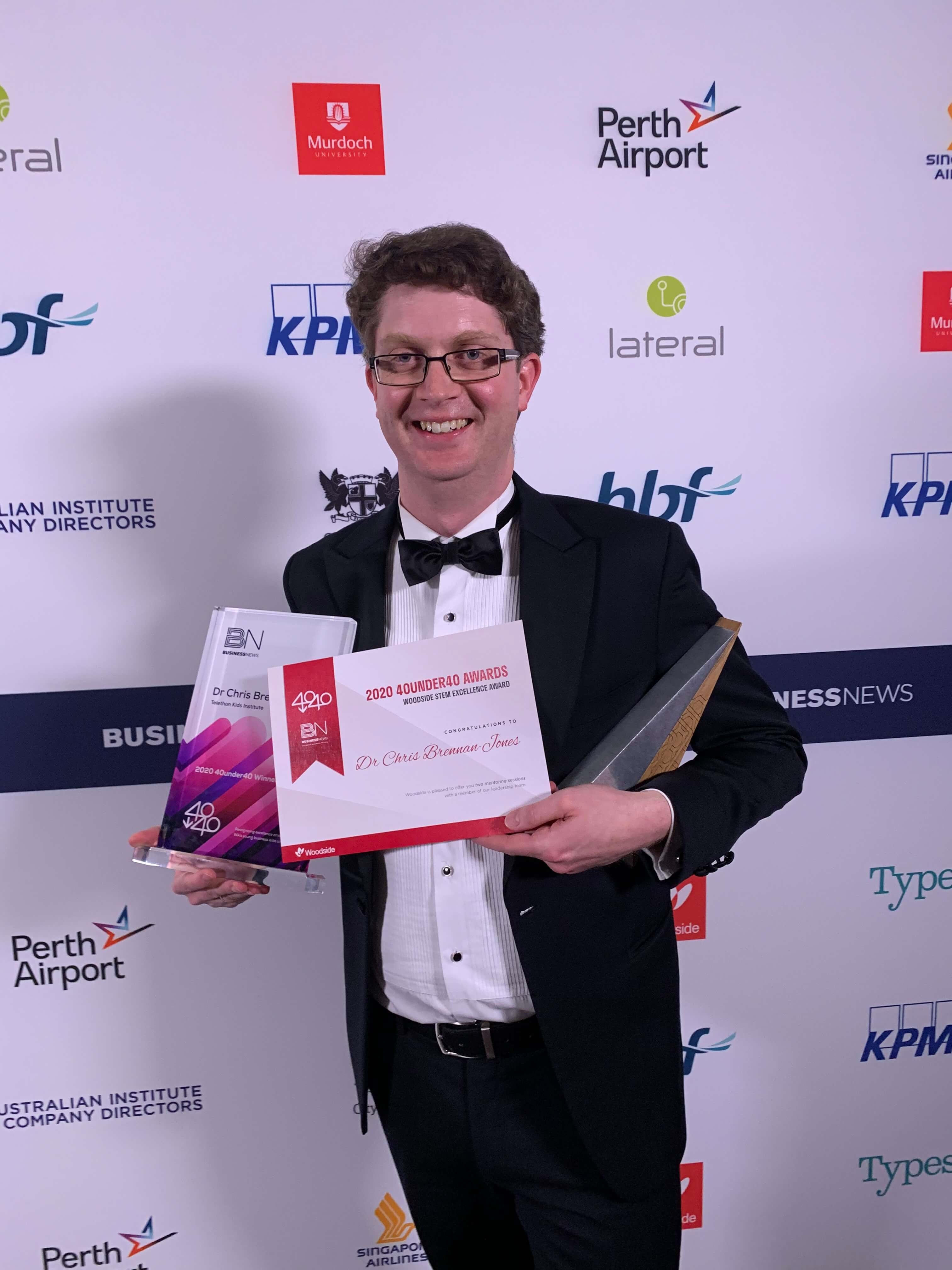 Telethon Kids Institute ear health researcher Dr Chris Brennan-Jones received the Woodside STEM Award for Excellence in Science at the prestigious 40Under40 Awards, in recognition of his dedication to improving outcomes for Aboriginal children suffering debilitating ear infections.
Research by Dr Brennan-Jones – who is Head of Ear Health at the Wesfarmers Centre of Vaccines and Infectious Disease, based at Telethon Kids Institute, and an audiologist at Perth Children's Hospital – and his team has led to a dramatic cut in treatment waiting times for children affected by middle ear disease, also known as otitis media (OM).

"Each year, 650,000 Australian children are affected by OM, and the conventional hospital service model has struggled to meet such high demand," Dr Brennan-Jones said.

"This kind of delay has huge ramifications: if you can't hear, you can't learn. Kids starting school with preventable hearing loss face long-term issues with language, behavioural and educational development, as well as poor mental health outcomes and job prospects later in life."
Determined to improve treatment access, Dr Brennan-Jones developed the Djaalinj Waakinj Ear Portal Program, which has since changed clinical practice and slashed waiting times from two years to just 10 days.
"Using the latest telehealth technology and support from local health workers, Djaalinj Waakinj facilitates remote diagnosis for children with OM – significantly reducing the life-long effects caused by delayed assessment and treatment," Dr Brennan-Jones said.
"Working in close consultation with the Aboriginal Community Advisory Group, the program has fast-tracked access to vital services for these families and given children the chance to have the future they truly deserve."
The annual Business News 40Under40 Awards are designed to acknowledge the future leaders of Western Australia, each year celebrating 40 outstanding young WA businessmen and women.
At just 32 years of age, Dr Brennan-Jones already has a long list of accolades to his name. He was named WA Student Scientist of the Year at the 2016 WA Premier's Science Awards for the research which sparked the Ear Portal, and is a finalist for Woodside Early Career Scientist of the Year at the upcoming 2020 WA Premier's Science Awards. In 2019 he received a WA Health Clinical Excellence Award in Aboriginal Health.
Telethon Kids Institute Director Professor Jonathan Carapetis congratulated Dr Brennan-Jones and applauded his ability to develop novel and critical ways to improve outcomes for Aboriginal children.
"In addition to Ear Portal, Dr Brennan-Jones and his team are involved in numerous programs and partnerships that are having a major impact on thousands of families," Professor Carapetis said.
This case study was published subsequent to the signing of the Independent limited Assurance Statement on 23 September 2020 and has not been assured.