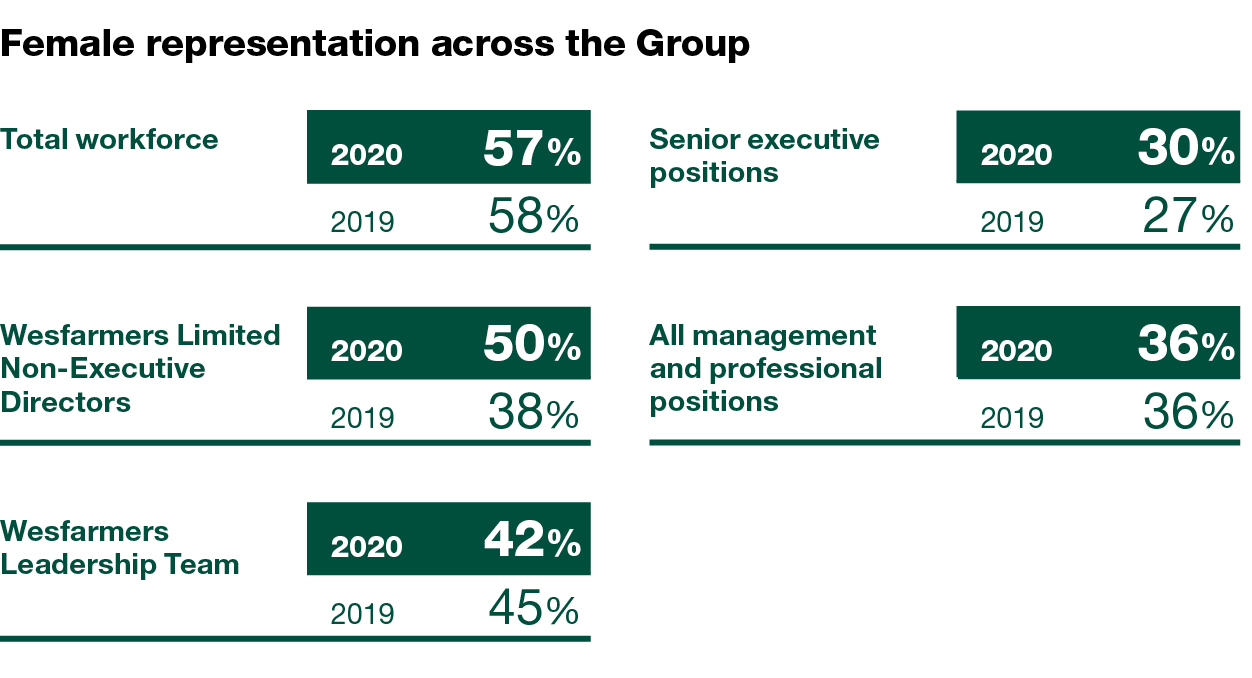 At Wesfarmers, we believe gender balanced businesses, which cater to the different strengths, preferences and needs of different team members and customers, enables us to deliver on our objective of providing satisfactory returns to shareholders. We encourage our teams to be inclusive and we strive for gender balance - which means there is a minimum of 40 per cent females and 40 per cent males on any team.
The Wesfarmers Board (excluding Executive Director Rob Scott) is balanced with 50 per cent women and men. The Wesfarmers Leadership Team (including Rob Scott) is balanced with 42 per cent women and 58 per cent men, as is the total Wesfarmers workforce (107,765 as at 30 June 2020), made up of 57 per cent women and 43 per cent men.
There is room to strengthen gender balance in senior executive positions with men holding an imbalanced proportion of senior executive roles, at 70 per cent. There is also room to improve the balance among management and professional roles where women continue to hold 36 per cent of positions and men hold 64 per cent.
Wesfarmers supports its divisions to build a gender-balanced workforce by regularly discussing progress, connecting them with companies from other industries and providing access to expert thinking and research through memberships and forums.
The Group Managing Director meets twice a year with each divisional Managing Director to discuss succession plans and the pipelines into leadership roles, including how divisions are successfully attracting, retaining and promoting current and future female leaders. In the most recent of these reviews (October 2019):
28 women (33 per cent of all nominees) were nominated as potential successors to divisional leadership team roles; and
two women (29 per cent) were nominated as potential successors to divisional Managing Director roles.
Within our divisions, talent reviews and people-planning sessions are conducted every six months. The consideration of gender balance is standard within these discussions, as well as action to sustain or move towards balance.
Each of the Wesfarmers divisional Managing Directors has gender balance objectives incorporated into their performance objectives and each division has its own gender balance and inclusion plan. Progress on gender balance is reported monthly via HR metrics reporting and more formally on an annual basis to the Group and Divisional Boards through diversity and inclusion reports. The divisional inclusion reports provide an update against our three group objectives: (i) to be and to offer an inclusive workplace; (ii) to ensure equitable and transparent people processes and practices; and (iii) to increase or sustain gender representation to achieve gender balance in teams.
Wesfarmers invests in memberships with external research organisations, including the Diversity Council of Australia and Catalyst, which are experts in diversity and inclusion in the workplace. Wesfarmers shares internal practices as well as external thought leadership, best practices and world-class research from these organisations across the broader Wesfarmers Group through cross-divisional inclusion forums. Over the past year topics have included algorithmic bias and age discrimination.
Group Managing Director Rob Scott continues to be part of Champions of Change Coalition (CCC) (previously Male Champions of Change), that works with CEOs to redefine men's role in taking action and supporting them to step up beside women and to provide leading expertise and practice to membership organisations.
Wesfarmers is a signatory to the United Nations Women's Empowerment Principles. Wesfarmers' support of the principles is consistent with its ongoing commitment to gender balance and aligned to the work currently underway across the Group.
Every year, Wesfarmers businesses lodge separate annual compliance reports with the Workplace Gender Equality Agency (WGEA). A copy of these reports may be obtained via the WGEA website.
GRI 103-1, GRI 103-2, GRI 103-3, GRI 405-1, GRI 406-1